The Vietnamese Talent Awards 2010 honored outstanding Vietnamese scientists in the fields of Information technology, natural sciences and healthcare was held at the Cultural Friendship Palace in Hanoi on November 21.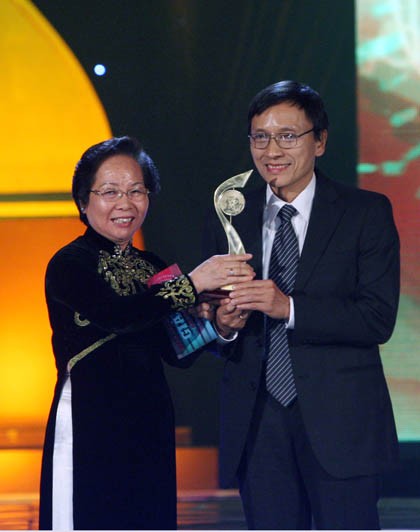 Vice State President Nguyen Thi Doan (L) handed over the Vietnamese Talents Awards 2010 to scientist Dao Tien Khoa. (Photo:Dan Tri)
The first place for Vietnamese Talents Awards 2010 in IT field went to MIMAS Group who will receive a prize valued at VND 100 million (US$5,000). They received the prize for their entry, "The system for digitalizing human thought."
It came from an idea to help people who suffer from mental problems and paralysis, the MIMAS Group developed the system as a helpful way to help patients better connect with electronic devices such as television, lights, etc. Thanks to EEG- Electroencephalography, "The system for digitalizing human thought" enables patients to use their thought to operate and control some of the devices on their own.

Professor, Doctor Dao Tien Khoa, from the Institute of Sciences and Nuclear Technology and Doctor Bui Chi Buu, Dr. Bui Chi Buu, Director General Institute of Agricultural Sciences for Southern Vietnam (IAS) have received the two Vietnamese Talents Awards 2010 in natural sciences.

The Vietnamese Talents Awards 2010 in healthcare was awarded to a group of doctors from the Vietnam Heart Institute, doctors Pham Manh Hung and Nguyen Quang Tuan, for their new method of applying coronary artery catheterization to treat cardiac diseases. Doctors Hung and Tuan were the first to introduce coronary artery catheterization to Vietnam and have successfully cured local patients.

The second prize, valued at VND 50 million ($2,500), was awarded to Transport World Letgo 24 by Nguyen Hoang Khang and Le Duc Quyet from Ho Chi Minh City. Transport World Letgo 24 aims to help transportation companies save more money by informing them about the return demand through an information network.

Three products won the third prize for potential application, which will receive VND30 million ($1,500) each):

Tim!Books - An electronic reading and listening software for mobile equipment (iPhone, Android, Samsung Bada) and iPad's, developed by Nguyen Minh Thao, Tran Hai Thanh, Le Duc Hung, Trinh Ba Quy, Ta Kien Cuong and Tran Ngoc Anh (Hanoi).

HomeSys.info service on Ubuntu applied for 3G and xDSL technology by creators Vo Viet Tai, Ngo Nhan Tam and Do Ly Viet Hung in Ho Chi Minh City. HomeSys.info is installed on servers using the Ubuntu operating system, version 9.10. It allows customers to get access to websites by their own accounts. Every customer who uses 3G technology can see image and status and control all indoor equipment by hand-held mobile equipment.

Vocabulary learning software by authors Tran Khuong Tuan and Tran Khuong Tu in Ba Ria-Vung Tau Province. The product is a solution to support vocabulary learning effectively for all people who usually use computers for their work.

The organizers also awarded one third prize for a product that has been widely applied in reality, the "Hello chao.com".

Vietnamese Talents Awards grants three consolation IT prizes valued at VND15 million (USD750) each:
Vietnamese learning software service through ezV by authors Le Hoai Ba Thuyet, Vo Van My, Nguyen Nhu Hoan, Nguyen Hoang Khanh and Tran Chau Lan in Ho Chi Minh City.
EzV is a solution for Vietnamese learning online which is built based on Drupal open source. EzV helps learners to control their study to be suitable for their specific situation. Website of the product is available at www. Easyvietnamese.com
Software to calculate transition of hydropower stations by author Nguyen Van Son from Hanoi.