Vietnamese and Thai Prime Ministers were unanimous in the need to expand and intensify bilateral, and pledged to raise the effectiveness of current cooperation mechanisms, while promoting bilateral investment and trade.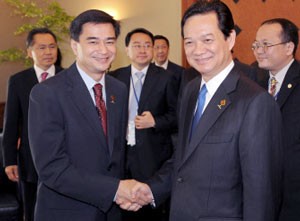 Thai PM Abhisit Vejjajiva (L) shakes hands with Vietnamese PM Nguyen Tan Dung at the start of the 14th Association of Southeast Asian Nations (ASEAN) summit in Hua Hin on Feb. 28, 2009 (Photo: AFP)
PM Nguyen Tan Dung and his Thai counterpart Abhisit Vejjajiva hold talks on Feb. 28 after PM Dung arrived in Hua Hin, Thailand, to attend the 14th ASEAN Summit. They also agreed to enhance cooperation in tourism, agriculture, labor, culture, education, security and defence; and promote joint sea controls and crime prevention.
PM Dung expressed his hope for stability and development in Thailand. He affirmed Vietnam's consistent policy to join hands with Thailand to deepen the two countries' friendship and cooperation in the interest of each country within the framework of bilateral and ASEAN cooperation.
The Thai PM said Vietnam is always Thailand's important partner in the region and in ASEAN. He pledged to continue boosting friendship and multifaceted cooperation with Vietnam.
The two leaders expressed their satisfaction at the rapid development of the two countries' traditional friendship and cooperation in political, economic, trade, investment, tourism, educational and training, security, defence and other fields over the recent past.
The two PMs agreed to soon kick-start meetings of the trade sub-committee of the Vietnam-Thailand Joint Committee to promote bilateral trade and maintain operation of the Vietnam-Thailand joint working team for politics and security.
Discussing regional and international matters, the two sides agreed to promote cooperation to successfully build up the ASEAN Community by 2015.
PM Dung invited PM Abhisit to visit Vietnam.
In addition to his participation in the 14th ASEAN Summit's official sessions, PM Dung will join other ASEAN countries' leaders in dialogues and unofficial meetings with the ASEAN Inter-parliamentary Assembly.
On the sidelines of the summit, PM Dung and Deputy PM cum Foreign Minister Pham Gia Khiem will also have several bilateral meetings.