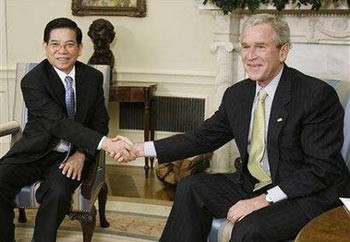 President Nguyen Minh Triet shakes hands with President G.W.Bush at the White House in Washington.
Visiting Vietnamese State President Nguyen Minh Triet held talks with US President George Bush at the White House in Washington D.C. at 11 a.m. of June 22 (local time).
The high-level talks was attended by senior officials of the two countries.
Immediately after the talks, President Triet met with the press during which he said his talks with President Bush was fruitful.
"We shared the view that the Viet Nam-US relations have recorded enormous gains and are entering into a new stage of development," President Triet said.
He added that the two Governments would work harder to develop the two countries' constructive and friendly partnership in a sustainable, comprehensive and effective manner.
The President also told the press that he and his US counterpart had discussed a host of measures to elevate bilateral ties in the fields of politics, economics, trade, science and technology, education and humanitarian affairs in addition to comparing notes on issues of mutual concern.
During the visit, the two countries signed a Trade and Investment Framework Agreement (TIFA) and other important economic deals and contracts, President Triet said.
The President took the occasion to express thanks to President Bush for his warm welcome and the American people for the hospitality given to him during the visit.
President Triet also sent Vietnamese people's friendly greetings to the American people, emphasising that Viet Nam is no longer a country of war but a peaceful country that is rising up as an active element in the international community.
He also asserted that the Vietnamese people wish to befriend with the Americans and work with them for the sake of mutual benefits, and for peace and prosperity in the world and international cooperation.
At the event, President Triet also conveyed warm greetings to overseas Vietnamese in the US , expressing his hope that they will help serve as a firm bridge between Viet Nam and the US.