According to Zone-H.org, many Vietnamese websites have been hacked during the last ten days, specifically sites having the suffix "gov.vn".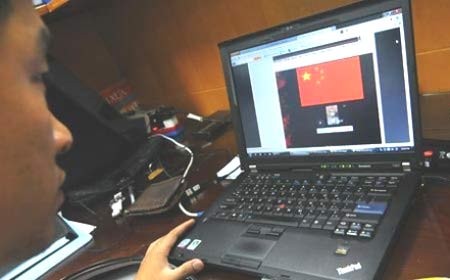 A website broken into by hackers who posted a Chinese flag on the home page (Photo: Tuoi Tre)
Websites with suffix "gov.vn" are run by government agencies, including the Department of Science and Technology in Tien Giang Province and the Department of Customs in Dong Nai Province.
 
Hackers attacked the DNS server, to redirect them to other addresses and even get possession of domains.
 
Nearly 300 Vietnamese websites were hacked by hackers CmTr and brwsk007 on June 6 and 7.
 
On June 8, they broke into the Foreign Ministry translation center website, http://www.ntc.mofa.gov.vn and posted a Chinese flag on its home page.
 
On June 9, they hacked the website petrotimes.vn, which has news posts relating to Chinese vessels penetrating into Vietnam's territorial waters and cutting the exploration cables of a Petrovietnam ship.
 
The hackers erased all data on the website. Fortunately the data had been stored elsewhere.
 
Vietnam Communications Corporation said some of the company's big websites including kenh14.vn, rongbay.com and enbac.com have been of late continuously attacked by foreign hackers.
 
Vo Do Thang, director of the Athena Network Security Center, said hackers have been attacking Vietnamese websites systematically and intentionally.
 
Vu Quoc Khanh, director of the Vietnam Computer Emergency Response Team, said there are indications that these hackers are from China.
 
Nguyen Minh Duc, director BKAV Internet Security, said Vietnamese websites are being aggressively and repeatedly targeted.