At a national conference on marriage and family relationships involving foreign elements held at Can Tho City on April 22, the Ministry of Police reported that over 272,000 Vietnamese women married foreigners since 1998.
According to relevant authorities, there is a trend for international integration today and Vietnamese women marrying foreigners is unavoidable. The point is how not to let this cause imbalances and affect Vietnamese customs, habits and most of all the image of the Vietnamese woman.
Facing reality
Opening the conference, Deputy Prime Minister Nguyen Thien Nhan put forward a question "What prompts Vietnamese women to marry foreigners, mainly those women living in Ho Chi Minh City and the Mekong Delta provinces?"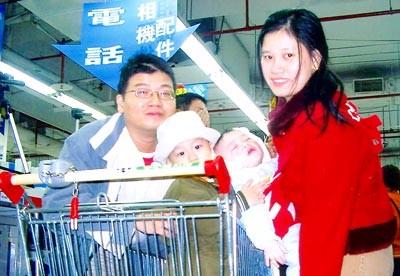 A woman from Can Tho City living a happy life with foreigner.(Photo:SGGP)
Replying to the question by Deputy PM Nhan, Nguyen Thanh Son, Deputy Minister of Foreign Affairs said getting married to foreigners allows Vietnamese to emigrate to foreign countries, a fact that Vietnam must accept. However, why do foreigners like to get married to Vietnamese women is also a question.
Vietnamese women get married to foreigners in the hope of a better life. This is the reason for many couples to marry in spite of a vast age difference, sometimes more than 10-19 years.
The same situation is prevalent in other countries across the world. The developed countries attract residents from other less developed countries in the world for a better life or better job prospects.
People in the Mekong Delta region have a difficult life. Huge numbers of women have no jobs, have limited access to education and face the prospect of a bleak future and hence they prefer to get married to foreigners in the hope of escaping poverty.
Explaining why foreigners like getting married to Vietnamese women, Ambassador Extraordinary and Plenipotentiary of Vietnam in Seoul, Korea Tran Trong Toan said Vietnamese women are hard working and Vietnam and Korea share a common culture.
In addition, Korea has a gender imbalance. Many Korean men, especially those living in rural areas are unable to find local brides so they marry foreign women. Most Korean men married to foreign women are not rich.
Caution required
According to a recent survey of the Labor and Social Science Institute, from the seven provinces recording the highest number of women getting married to foreigners, 83.6% Vietnamese brides seemed satisfied with their marriage to foreigners.
Many women sent money back home to help their families after getting married. Among them, 36.3 households enjoyed a higher standard of living and 54.7% households have a higher rate than the very poor.
However, police have arrested many cases of illegal marriage brokerages and more and more women are being sold as prostitutes.
Recently, police uncovered organizations that were forcing women to have babies for adoption sales. In another case, some people of African origin had arrived in Vietnam and married Vietnamese women. They took advantage of their relationships and forced them to transport drugs.
Major general Do Kim Tuyen said that most Vietnamese women wanting to marry foreigners lacked any information about them and are ignorant of the law.
According to the Vietnam Woman's Union, 18 centres providing consultation on marriage with foreigners were established to help women resolve problems before getting married to foreigners. The centres gave advice to 6,500 women and guided them on legal matters. Some women decided against marrying foreigners after receiving advice.
The initiative and active cooperation of concerned agencies is necessary to help Vietnamese women overcome problems before getting married to foreigners.