Many Vietnamese workers in Taiwan have been running the risk of unemployment since the current depressed state of the international economy has reduced factory orders. However, some believe Taiwan is still a good labor market for Vietnamese workers.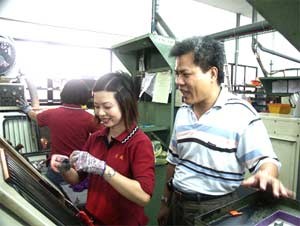 A Vietnamese female worker works at the Han Guang Company (Photo: Tuoi Tre Newspaper)

Workers stay at home

Over the last few days many Vietnamese workers have been out of work and relaxing at Bao De Labor Agency's hostel in Taichung city. With little factory work they have been told to stay home and are currently receiving 60 percent of their monthly salary.  
Workers in the Pao An Chuan industrial zone in Tainan city area also suffering. "Last year we had secure jobs and earned quite well. But this year, our factories haven't found many orders, so we have had to stay at home for long periods."  
Some have remained at workers' hostel during the lull whilst some have not. Many have chosen to visit friends or visit shopping malls to spend their free time. A worker from Nghe An province, who is currently working in Taoyuan county lamented that his factory has no work and his monthly allowance is only enough to cover living costs. He is also worried that he will be sent back to Vietnam if his factory closes.  
Some others still work well


However, the situation for some Vietnamese workers in Taiwan is not all bad.  
Some factories have improved their manufacturing situation and have found stable sources of orders. In particular, Vietnamese workers are earning 23,000-26,000 new Taiwan dollars (US$685 – 774) per month from their work as lathing, smoothing and sharpening finished products for Han Guang, who manufactures auto-parts and components for some well-known European companies, including Mercedes-Benz, BMW and Volkswagen.  
Director Xie Ming Fu of the company praises the work ethic of his Vietnamese staff and hopes to hire more after an upturn in the market.  
Other workers in Taichung city also see a bright future. One worker, Nguyen Van L. of Bo Trach district of Quang Binh province, said he could earn about 40,000 new Taiwan dollars (US$1,190) per month while others can earn from 30,000 – 34,000 new Taiwan dollars (US$892 – 1,011). 
L. also mentioned that he can adequately support his family in Vietnam with 26,000 – 30,000 new Taiwan dollars (US$774 – 892). "I've been working in Taiwan for nearly two years but last year my family paid off all debt for my trip to Taiwan with the money had I sent previously." 
L. also estimated that this year he has saved up about 200,000 new Taiwan dollars (US$5,950).  
A translator of the Bao De agency, Ms. Hang said: "Only workers who work hard can earn high incomes. They may also receive some bonuses and over-time from their company. That's why they can earn much more than others."  
Hoang Khai Minh, general manager of the Forward Labor Consultant Company which has helped 1,700 Vietnamese find work in Taiwan notes "The most important thing is that the labor agencies need to find good companies for their workers. These companies need to have a secure source of orders to be able to provide workers with long-term security."