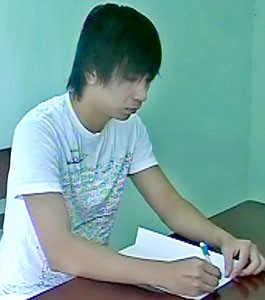 Vo Kevin Huan writes a letter to ask for forgiveness while in police custody
Vietnam police on July 24 expelled Vietnamese-American Vo Kevin Huan who had earlier done anti-Vietnam activities in the country.
Huan, born in 1983 and also known as Vo Tan Huan, arrived in Vietnam on July 10. On July 16, police arrested him together with 103 pages of document written to incite sentiments against the government, investigators said.
Police said he told investigators that in February 2009, he joined the organization "Democratic Youth Gathering," headed by Nguyen Tien Trung and Nguyen Thi Huong, aka Hoang Lan, and had written documents for the organization to incite sentiments against the Vietnamese government.
He said to investigators that he joined the so-called Democratic Party of Vietnam in June 2009 and tried to incite unrest in Vietnam.
Police said before arriving in Vietnam, Huan had met with Nguyen Sy Binh, president of the so-called Democratic Party of Vietnam. His Vietnam mission was to know more about the arrests of Le Cong Dinh and Nguyen Tien Trung, as well as other issues related to Vietnam's security

He was arrested six days after his arrival. Police said he just started his duty.

While in custody, Huan admitted to violating Vietnamese laws, expressed regret and asked for forgiveness, investigators said, adding that the government had thus decided to deport him without pressing criminal charges.
Police reports did not say clearly to which country he had been deported.