Vietnam and Laos need to strengthen economic cooperation equal to that of their diplomatic relationship, said Lao Deputy Prime Minister, Somsavat Lengsavad, at a meeting with SGGP on the occasion of the countries' 47th anniversary of establishing diplomatic relations.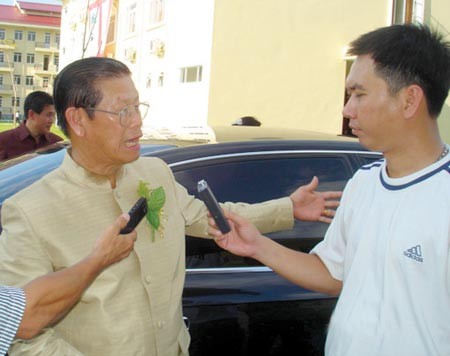 Deputy Prime Minister of Laos Somsavat Lengsavad (L) talks with an SGGP reporter in Vientiane, Laos. (Photo: SGGP)
At the meeting, Mr. Somsavat said Vietnam had been investing in Laos, creating jobs for Lao people, helped Laos exploit its strong position of resources, minerals and supported many large projects in Laos.
Hoang Anh Gia Lai Corp. has recently helped build the SEA GAME 25th village in Laos and it is the biggest project with an area of 42,000 square meters, he said.
Mr. Somsavat said Laos had recently received a Vietnam – Laos Friendship High School gift from Vietnam Party General Secretary Nong Duc Manh.
Vietnam is the third for countries investing in Laos, after China and Thailand, with a total of 186 projects, worth US$2.08 billion.
However, exports between the two countries are still low, at around $500 million per year.
He said the two countries need to develop economic cooperation.
Many Vietnamese companies have been investing into Laos, such as Hoang Anh Gia Lai Corp., Vietnam Rubber, Dac Lak Coffee and Saigon Plastic.
Laos will create good conditions to attract investment and give priority for Vietnamese companies, he added.