General Vo Nguyen Giap wished VietNamNet online newspaper greater and greater development and success in bringing into full play the power of the press when VietNamNet correspondents visited the general to congratulate him on his 99th birthday.
At the age of 99, the general is still healthy and has a sound mind. He received and talked with all guests who came to congratulate him on his longevity.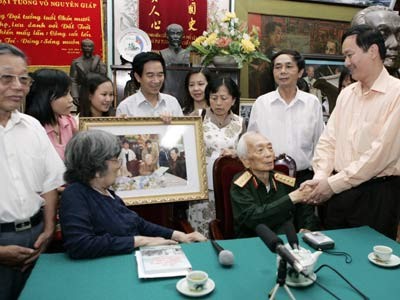 VietNamNet correspondents and General Giap
Presenting the general with a photo taken four years ago, in which the general is presenting VietNamNet with some words, "Wishing VietNamNet even greater sharpness", Chief Editor Nguyen Anh Tuan said that VietNamNet correspondents have worked under the general's advice. This photo is hung in VietNamNet's office in
Hanoi
.
This year, the general said he hoped: "Sharp VietNamNet gets even sharper and brings into full play the power of the press."
General Giap's home on Hoang Dieu road, Hanoi was crowded yesterday with many people coming to wish him continued health and sound-mindedness.