Prime Minister Nguyen Tan Dung and his Qatari counterpart, Hamad bin Jassim bin Jabir al-Thani, held talks in Ha Noi on April 2 right upon the latter's arrival for an official visit to Viet Nam.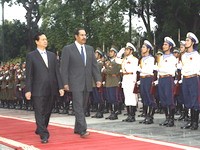 Qatari PM Jabir al-Thani (R) reviews the honor guard
PM Dung highlighted recent progress made in bilateral relations, especially in trade and investment, after expressing thanks to the Qatari Government and people for their assistance in the past and at present.

"Both should work close together to translate their own great potential into reality in the interest of the two nations," emphasized the Vietnamese Government leader.

In reply, Qatari PM Jabir al-Thani said his visit aimed to boost cooperation with Viet Nam in all fields, focusing on investment, finance and banking.

He warmly welcomed Viet Nam's recent action to open a diplomatic office in Doha and said his government would follow suit by opening a diplomatic office in Ha Noi soon.

The two government leaders dig deep into concrete measures to boost bilateral relations as well as international and regional issues of mutual interest.

They reached a consensus to further exchanges of visits at all levels as a foundation to facilitate cooperation, especially in investment, oil and gas, labor and trade. They also pledged to create favorable conditions for their businesses to promote trade and take a foothold in the other's markets.

They also agreed to give best available investment stimuli for Qatari businesses to operate in Viet Nam.

Such cooperation is necessary to benefit vested interest, development and stability in individual countries, they emphasized.

Following the talks, the two Prime Ministers witnessed the signing of a Memorandum of Understanding on cooperation between the Qatari Investment Fund and the State Capital Investment Corporation of Viet Nam.

Prime Minister Jabir al-Thani invited PM Dung to visit Qatar.