Vietnamese Prime Minister Nguyen Tan Dung has said the Dung Quat Oil Refinery lays the foundation and serves as an important kick-start for the development of Vietnam's petrochemical industry.
He made the statement after cutting the ribbon to officially inaugurate the country's first oil refinery at Binh Son district, the central province of Quang Ngai on Jan. 6.
"The Dung Quat refinery's official operation is importantly significant to the country's politics, socio-economic affairs, and national defense and security during its industrialisation and modernisation course," PM Dung said.
Emphasizing the facility's part in ensuring national energy security, he affirmed "the selection of location for the refinery and the construction of the plant are the right investment decisions made by our Party and State."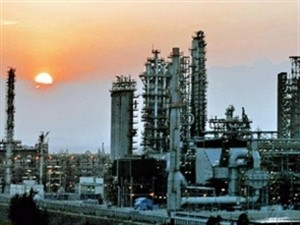 A corner of Dung Quat Oil Refinery
The PM also noted the refinery's core industrial position in Quang Ngai province and the central region, saying it will enable the fast development of related services and industries as well as promote the provincial and regional economic restructuring for an economic balance with other regions in the country.
As the country's key work, the Dung Quat refinery cost more than 3 billion USD, the highest investment amount ever pumped by the Vietnam National Oil and Gas Group (PetroVietnam), which will also be in charge of managing and operating the facility.
Covering 337 ha of land and 471 ha of seawater surface, the Dung Quat oil refinery is capable of processing 6.5 million tons of crude oil a year into products like liquefied gas (LPG), unleaded petrol, kerosene, air fuel, auto diesel, fuel oil (FO), sulphur and polypropylene.
Turning out its first product at a test run beginning in February, 2009, the refinery had by the end of 2010 supplied the market with 7.2 million tons of products.
With more than 1,000 technicians, the facility can meet 30 percent of the country's needs for petroleum products.
The refinery's developer, PetroVietnam, and its foreign partners are studying a possibility to raise the refinery's yearly capacity to 10 million tons.
They plan an additional investment of 1 billion USD for the capacity expansion scheme, which is expected to be completed in 2016.
This year, the refinery has set to earn 77 trillion VND in revenues and 550 billion VND in profit and contribute 15 trillion VND to the state budget.