The country has succeeded in preventing economic recession, maintained growth, and ensured social security, National Assembly (NA) Chairman Nguyen Phu Trong said at the sixth session of the 12th National Assembly in Hanoi October 20.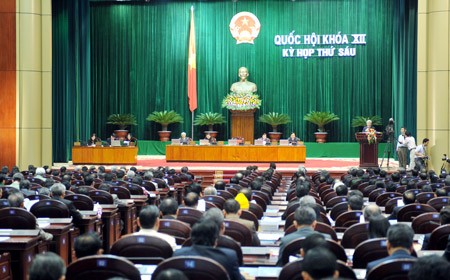 The NA opens the sixth sesion in Hanoi on Oct. 20, 2009. (Photo: Minh Dien)
Addressing the opening ceremony, Mr. Trong said several other measures would be taken to bolster the economy's recovery and create good conditions for sustainable growth in 2010 and the years to follow.
Efforts to overcome impacts of the global economic recession have paid off with the country seeing its GDP increase continuously in 2009, at 3.14 percent in the first quarter, 4.46 percent in the second, and 5.76 percent in the third, according to a Government report presented by Prime Minister Nguyen Tan Dung.
Overall growth from Jan-Sep reached 4.56 percent, and growth for the whole year is estimated at 5.2 percent, he said.
Thanks to a recovery in industry and trade, the total revenue of the State budget in 2009 is likely to reach about VND390 trillion by year-end, up 0.2 percent from the target, while the budget deficit this year will be limited to 6.9 percent of GDP, the report said.
The balance of national debt will be at 29.7 percent of GDP, still within the allowable limit, the report said.

Total spending on social security has amounted to VND22.47 trillion so far this year, up 62 percent from 2008. Around 41,580 tons of rice have been distributed to victims of natural disasters, and total lending to the poor and other charities may reach VND76 trillion by the end of 2009, up 45.3 percent from 2008, the report added.

The report also outlined the main economic targets for 2010, such as GDP growth of 6.5 percent, export turnover expansion of 6 percent, budget deficit at 6.5 percent of the GDP, and a CPI of 7 percent.

Vietnam also plans to create 1.6 million jobs, lower poor households to under 10 percent, attain a rate of 27.5 sickbeds per 10,000 people, and increase the urban housing area per capita to 13.5 square meters.

Along with economic and social issues, this NA session, which will last until November 27, will focus on legislation, national construction projects and other key issues.
The legislature will pass several bills, including the Elderly People Law, Medical Examination and Treatment Law, Telecommunications Law, Radio Frequency Law, Militia and Self-Defense Forces Law, and Natural Resource Tax Law.
The NA will also pass amendments to such existing laws as the Education Law, VAT Law, Corporate Income Tax Law, Law on the State Bank of Vietnam, and Law on Credit Institutions.
In addition, it will discuss several other bills, including the Land and Housing Tax Law, Food Safety Law, and Disabled People Law.
The session will hear reports related to the development of national construction projects, including Dung Quat Oil Refinery, Son La Hydroelectric Plant, and the Ho Chi Minh Road; and review two new projects, the Lai Chau Hydroelectric Plant and Ninh Thuan Nuclear Power Plant.
A two and a half-day question-and-answer session will also run starting November 17.