Vietnamese cyber security firm Bkis said it has found that attacks launched on websites in South Korea and the US earlier this month appear to have come from a master server in the UK.
The master server controls all of the eight command and control servers involved in the series of distributed attacks Bkis said in a blog posting on its English website on July 14.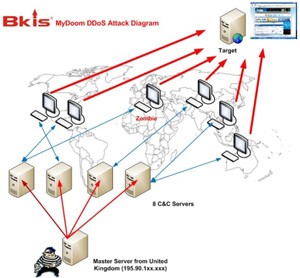 A diagram by Bkis of the MyDoom DDos attacks
The firm said its experts made "counter-attacks" on two of the eight servers and collected the records of the distributed attacks. Based on the records, Bkis identified that the master server with an IP address 195.90.118.x range was located in the UK.
Bkis director Nguyen Tu Quang told reporters on July 14 that his firm estimated the number of compromised PCs involved in the attacks to be around 167,000 in 74 countries.
The firm said it has sent relevant data to the South Korean and US governments.