Vietnam's economy expanded 5.89% this year, lower than 6.78% last year, and the consumer price index increased 18.58%, the General Statistic Office (GSO) announced at a press conference in Hanoi Thursday.
The growth rates in the first, second, third and fourth quarters are 5.57%, 5.68%, 6.07% and 6.1%, respectively, said the GSO, an arm of the Ministry of Planning and Investment.
Ministry specialists described this year's growth as "fairly high and proper" amid the country's efforts to curb inflation and stabilize the macro-economy along with the global economic downturn.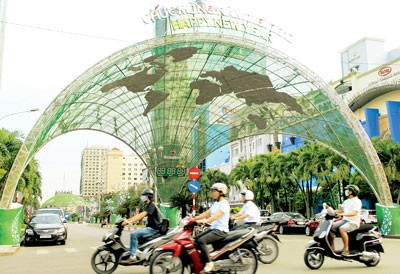 Nguyen Hue Street in Ho Chi Minh City's is decorated to welcome New Year 2012 (Photo: Thanh Tam)
According to the GSO, the agricultural sector grew 4% this year, industry and building 5.53%, while the service sector led with 6.99%
In terms of export, 14 groups of product have created revenue of more than US$2 billion each, namely crude oil; telephones and parts; footwear; fisheries; electronics and computers; machines, equipment, and tools; wood and wooden products; rice; rubber; coffee; gemstone and precious metals; means of transport; and petrol products.
This year's consumer price index rose 18.58% compared with last year.
This year, Vietnam posts its population at 87.84 million, up 1.04% on last year, according to the GSO. The total of men is 43.47 million, and the rest 44.37 million are women.