Vietnamese exporters' fear that the famous Buon Ma Thuot coffee brand that has been patented in two countries may now hamper the export of this coffee brand from Vietnam to other countries across the globe.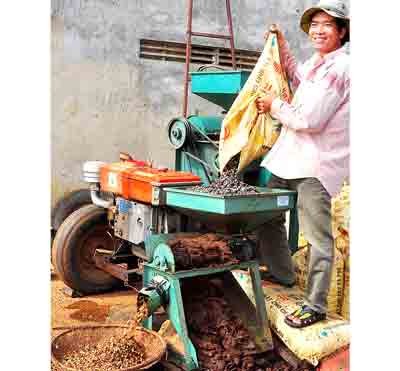 A farmer in Buon Ma Thuot seems happy with a bumper coffee harvest (Photo: SGGP)
Buon Ma Thuot is a well-known coffee growing area located in the Central Highland province of Dak Lak. Two foreign companies have already patented the brand name in their respective countries.
There are now fears that the companies may use their exclusive patent rights to block export of Buon Ma Thuot coffee from Vietnam into other countries in the world.
Coffee exporters are also concerned of the difficulties in competing with their foreign counterparts in marketing the coffee.
The Department of Industry and Trade in the Central Highland province of Dak Lak announced that 12 enterprises in the province had exported around 22,407 tons of coffee to 51 nations in the first ten months of the year.
Among 12 Vietnamese exporters, 6 foreign companies namely Dakman, Amazaro Vietnam, Newma Group, Olam Vietnam, Nedcoffee Vietnam and Vinh An purchased 195,000 tons of coffee during the first five months of 2011.
Vo Thanh, director of the Department of Industry and Trade, said foreign companies obeyed the government's decision on purchasing coffee from local enterprises or Vietnamese agents.
With 180,000 hectares under coffee, Dak Lak province produces 400,000 tons of coffee a year but half of the coffee is purchased by foreign companies; thereby, local exporters will for sure face a shortage of coffee for export.
Something needs to be done immediately to increase competition, said Phan Trong Hien, director of Olam Vietnam, pointing out that home companies are facing difficulty in collecting coffee because of shortage of capital and high overheads.
Agreeing with Hien, Nguyen Xuan Loi, director of An Thai Coffee Development Investment Company, said that domestic businesses must re-arrange their management strategy and not export raw materials. In addition, the government should provide more financial assistance to local enterprises.


On September 29, the People's Committee of Dak Lak province wanted Chinese companies to terminate their patent right claims of the Buon Ma Thuot coffee brand, as a diplomatic gesture.  It sent official requests to the ministries of Science and Technology, Industry and Trade, Public Security and the Vietnam Coffee and Cocoa Association asking for help in dealing with the issue diplomatically.

If diplomacy fails, the province said it would hire a competent law firm to resolve the issue.