Singapore vessel Eagle Milwaukee, carrying 52,500 tons of diesel oil for a trial operation of Vietnam's first refinery, anchored yesterday at the refinery's wharf.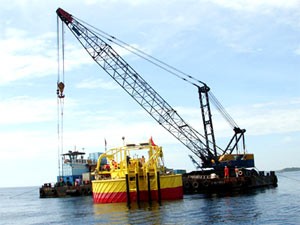 Dung Quat refinery's wharf
The oil is set to be pumped into the Dung Quat refinery, based in the central province of Quang Ngai's Binh Son District, through an undersea pipeline in what is one of the most important processes to be tested.
 
Dinh Van Ngoc, deputy head of the refinery, said the management, together with main contractor Technip and other units, is closely monitoring the oil pumping process for progress rate and to ensure safety.
 
Dung Quat will ship in 80,000 tons of crude oil from the offshore Bach Ho oil field later this month to begin operation and produce the country's first oil products next February.
 
The Oil Corporation will distribute the refinery's output during the test period.
The Vietnam Oil and Gas Group (PetroVietnam) said it is considering several possibilities for the refinery, including operating as an independent business and selling stakes to a foreign partner.
Vietnam exports 16 million to 17 million tons of crude oil and imports 12 million tons of oil products every year.
The refinery, whose construction began in June 2005 in the Dung Quat Economic Zone, has an installed capacity of 6.5 million tons per year.
 
PetroVietnam has sought Government approval for a plan to expand the capacity to 10 million tons.