Covering 808 ha of land and 471 ha of seawater surface, the Dung Quat oil refinery is capable of processing 6.5 million tonnes of crude oil a year into products like liquefied gas (LPG), unleaded petrol, kerosene, air fuel, auto diesel, fuel oil (FO), sulphur and polypropylene.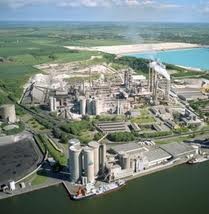 Dung Qung Oil Refinery is seen from helicopter.
After commercial operation, which began in February, 2009, the refinery was handed over by the Technip Contractor Consortium to PetroVietnam on May 30, 2010, and it had by the end of the year supplied the market with 7.2 million tonnes of products.
At present, the refinery's owner, PetroVietnam, and its foreign partners are studying a possibility to raise the refinery's yearly capacity to 10 million tonnes.
They plan an additional investment of 1 billion USD for the capacity expansion scheme, which is expected to be completed in 2016.
This year, the refinery has set to earn 77 trillion VND in revenues and 550 billion VND in profit and contribute 15 trillion VND to the state budget.