The Vietnamese Embassy in Thailand in conjunction with Le Danang restaurant in Thailand 's capital of Bangkok has launched the Vietnam Gastronomy Month in Thailand .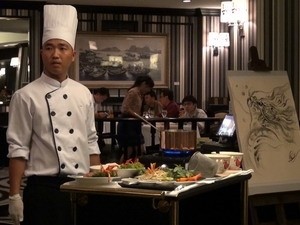 Chef Nguyen Van Nhien cooks Pho at Vietnam cuisine festival (Source: VNA)
The event is among activities to promote the Vietnamese culture as well as traditional cuisine among not only Thai people but also international residents in the country.
During the gastronomy month, Vietnamese chef Nguyen Van Nhien from the central tourism city of Da Nang will introduce many Vietnamese recipes, particularly those from the central region for visitors to taste true Vietnamese cuisine.
According to Vietnamese Ambassador to Thailand Ngo Duc Thang, many activities have been organised recently in Thailand to introduce Vietnam .
These activities contribute to enhance culture exchanges, solidarity between people of the ASEAN countries, looking towards the establishment of the ASEAN community in 2015, he added.