Being the first woman to run the largest snake farm in the country is not an easy task, especially for someone who was always terrified of the smallest reptile. However, Pharmacist Tran Thu Ha has within three years expanded the Dong Tam Snake Farm as an attraction for the public, gaining the nickname 'Queen Snake Raiser'.

Elegant Snake Farm

Tran Thi Ha, director of Dong Tam Snake Farm
Even people who are normally scared of snakes cannot help but feel awestruck when they visit the Dong Tam Snake Farm. Covering approximately 12ha, the farm has a wilderness area full of ditches with rare and precious species of snakes, such as the king cobra, burrowing cobra and ringhals, as well as medicinal plants, a clinic for snakebite treatment, a research department, an animal reserve center and a snake museum.

Explaining the elegance of the farm's design, Doctor Vu Ngoc Luong, deputy director of the snake farm, said that this was Tran Thu Ha's idea to help visitors feel safe when coming to the centre. He clearly showed his admiration for her director, commenting that because she knew how to boost the morale and sense of responsibility in her subordinates, they were able to overcome so many formidable obstacles to create such a magnificent complex.
Among many impressive achievements of Dong Tam Snake Farm is the high percentage of success in rescuing people who are bitten by poisonous snakes. Take the story of Nguyen Huu Tai, a resident in Tan Phu Ward of Ben Tre City in the southern province of Ben Tre, as an example.
While herding his cows, he was bitten by a monocled cobra on August 4, 2009. Coming to Ben Tre Traditional Medicine Hospital two hours later, he was instructed to ask for help from Dong Tam Snake Farm as they could not cure him.
Unfortunately, the car broke down and when he came to the snake farm, he was on the point of collapse. Using the self-made medicine, the group of doctors tried their best, and within an hour revived Tai, who was released on October 19, 2009, in perfect health.

Queen without a crown

Colonel and Pharmacist Tran Thu Ha recalls her nervousness on the first day of coming to Dong Tam Snake Farm when she had absolutely no knowledge of snake rearing. As head of the Pharmacy Department in Hospital 120 (under Military Zone 9), she received her new mission as director of the snake farm in 2009 but could not avoid being worried.

The first reason for her anxiety was that it was the largest snake farm in the nation, having been managed earlier by very talented directors such Colonel and Pharmacist Tran Van Duoc (from 1929 to 1989).

Moreover, Ha was so afraid of snakes that even its sight would freeze her. Right at that time, her husband had to work away from home, letting her take care of her family by herself. The last and most serious obstacle was her new colleagues' prejudice, that she knew nothing about snakes or ecotourism.

Realizing that 'it is the first step that counts', she took advantage of the little time left after fulfilling her duty, and began to learn as much as possible from various sources such as newspapers, the internet, and even her juniors.
In addition, in 2009, she organized a scientific conference on snakes with experts and scientists and was able to widen her knowledge a great deal, along with a new project to streamline the snake farm, bringing it to its fullest potential.

With the project in hand, she started the first step by focusing on improving the lives of her subordinates. To do that meant to increase the revenue from tourism. Therefore, the dark and depressing environment with many bushes and shrubs was replaced with simulated wilderness areas for snakes and bonsais, and flowers along the walkways. Snake cages were also categorized and arranged more scientifically.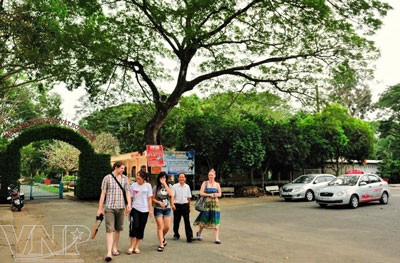 Foreign visitors come to see the snake farm
As a result, the number of visitors to the snake farm increased quickly to more than 100,000 per year, thrice as much as before.

Seeing that all the medicines had not been registered before and not appealing to the public, she launched a nationwide marketing campaign while supervising the process to widen distribution channels so that their medicine could be sold internationally.
The income from self-made medicines also helped a great deal to make life easier for workers in the snake farm, Lieutenant Colonel Luong proudly recalled. The successful remodeling of Dong Tam Snake Farm was an example for other preservation centers.

There was no wonder that she earned the admiration of all her subordinates and thus nicknamed 'Queen of Snake Farm'. Yet, she often joyfully calls herself the queen without a crown.
Basically she is such a friendly and simple person and even gives her colleagues an opportunity to shine more brightly than herself by withdrawing from national projects like 'Developing and Exploiting the Gene Source of King Cobras and Monocled Cobras to make Medicine'. Explaining this action, she simply said that she was still new to the job and needed time to familiarize herself with the snake farm to do research.
This was such a fair decision and she is such a wonderful leader, commented Lieutenant Colonel Luong.


Dong Tam Snake Farm is also known as the Medicinal Plant Cultivation and Research Centre of Military Zone 9 in Chau Thanh District in the Mekong Delta Province of Tien Giang. It was established in October 1979 under the name of Pharmaceutical Company No.408 of Military Zone 9. In 1988, the Ministry of Defense upgraded it into a preservation centre for precious medicines and traditional medicine production as well as for curing snake-bite patients coming from the Mekong Delta area. The farm has now become the largest snake farm in the country, preserving more than ten kinds of endangered poisonous snakes for tourism purposes as well as medicinal purposes.