Vietnam's Party General Secretary Nong Duc Manh and his entourage arrived at the Fairbairn military airport in Canberra on the Sep. 6 night, starting an official visit to Australia at the invitation of Prime Minister Kevin Rudd.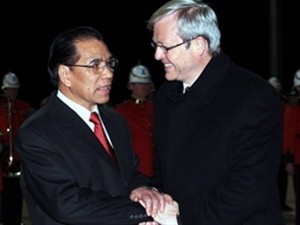 Australian Prime Minister Kevin Rudd (R) welcomes Vietnamese Party Secretary Nong Duc Manh in Canberra on Sep. 6 (Photo: VNA)
Welcoming the Vietnamese Party leader and his delegation at the airport were Australian Prime Minister Kevin Rudd, Speaker of the House of Representatives Harry Jenkins and Senate President John Hogg, among other senior officials.
An official welcoming ceremony was held right after General Secretary Manh's arrival at the airport following Australia's highest protocol for head of states.
An article by David Curry run on the Canberra Times on Sept. 6 described Mr. Manh's official visit to Australia as "an important diplomatic milestone" in bilateral ties.
Both countries consider the visit a chance to boost bilateral cooperation and open up a new chapter in their relationship through a mechanism of comprehensive partnership, the newspaper said.
It also quoted Prime Minister Kevin Rudd's affirmation that Australia sees Vietnam valuable partner in Asia-Pacific and the visit by General Secretary Nong Duc Manh is a chance for the two sides to discuss measures to boost their ties.
Earlier, the Australian Associated Press (AAP) also informed about General Secretary Manh's visit and reiterated the importance of the Vietnam-Australia relationship.