Vietnamese Party General Secretary Nguyen Phu Trong yesterday received the Emir of the State of Qatar, Hamad Bin Khalifa Al-Thani, who is on an official two-day visit to Viet Nam.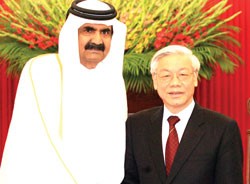 Party General Secretary Nguyen Phu Trong (R) meets Qatari Emir Hamad bin Khalifa al-Thani. (Vietnam News Agency Photo)

The Qatari Emir expressed his delight at his first visit to Viet Nam, thanked the Vietnamese Party and State leaders and people for their warm welcome, and expressed his high appreciation for Viet Nam's achievements and experiences in the process of national construction and development as well as its prestige and position in the region and the world.
He briefed Trong on the recent situation in Qatar and the results of meetings with Vietnamese leaders, saying that he wished to boost co-operation between the two countries in all sectors, especially in economics, trade, investment, labour, education and training.
Trong expressed his pleasure at Qatar's recent socio-economic achievements and affirmed that Viet Nam attached much importance to developing relations with Qatar – an important partner in the Middle East.
The Party leader suggested that the two sides should further foster bilateral co-operation in fields of potential, which would bring practical benefits to both countries while contributing to global peace, co-operation and development.
The Emir wrapped up his official visit to Viet Nam yesterday during which a series of co-operation documents between the two countries were signed.
They included a memorandum of understanding (MoU) in education, higher education and scientific research, and an investment agreement for the Long Son oil project. Three other MoUs were inked between the State Bank of Viet Nam and Qatar Central Bank, between Viet Nam's State Capital Investment Corporation and Qatar Investment Group, and between M&C Corporation – a real estate developer in Viet Nam – and Qatari Diar Real Estate Investment Company.