Experts raised the issue of Vietnam's fast aging population as compared to other countries in Southeast Asia on the occasion of International Day of Old Persons on October 1.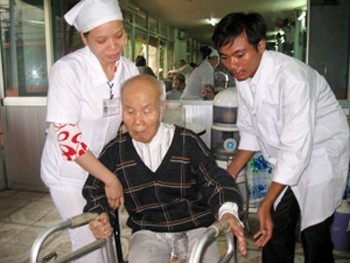 Vietnam lacks adequate medical facilities to take care of their fast aging population (Photo: Vietnam News Agency)
According to Dr. Duong Quoc Trong, head of the General Office for Population and Family Planning, the Vietnamese population has officially entering the aging phase with the ratio of aging elderly people above the age of 65 accounting to almost seven percent of the entire population in the country.
This ratio will speed up within 17-20 years, much faster than in other countries of Southeast Asia. This will compel Vietnam to change its strategies and policies to suit the elderly and aging population, said Trong.
This rapid aging phase is taking place while Vietnam's per capita income is still relatively low. At present, most of the elderly live in rural areas and their main income comes from farming. Over 70 percent of the people in all rural areas have to work everyday to sustain them and their families and have little or no old age security plans, savings or government schemes to help in time of need.
60 percent of the rural population live in dire conditions or below the poverty line and one can say that only one percent live comfortably.

Meanwhile, only one third of the elderly population lives on retirement benefits or social allowances.
According to Le Tuyet Nhung, deputy head of the Social Welfare Department, about 900,000 old people receive retirement allowance, which is only 21 percent of their minimum salary.
Besides, faced with lack of material comfort, many old people are also living alone or are dependent on relatives. Figures show that only 20 percent of the elderly in the country can claim to be comfortable.
The elderly in Vietnam are also not healthy. Vietnamese life expectancy is 73 years while a healthy life-span is just 60 years. About 95 percent of the elderly suffer from more than one disease, mainly chronic, though not contagious. Diseases like cancer, diabetes and cardiovascular problems abound in the masses.
Almost 70 percent of the elderly need medical treatments but unfortunately medical facilities are still not accessible to all.
Many experts say that the State should either change pension policies or increase the retirement age. Methods of insurance should be diversified and social allowances should be broadened to reach those living in rural areas.