Vietnam's August Revolution 66 years ago left the country with all-time precious lessons about the strength of unification under the Party leadership.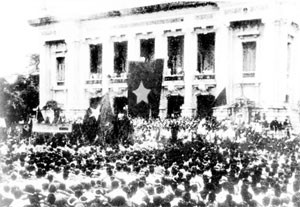 A scene of the August Revolution in Hanoi in 1945 ( File photo)
The unification has led the country to overcome adversity and take many chances to develop.
Now, it works for practical purposes such as enhancing the country's solidarity and building the administrative socialist government of the people, for the people and by the people.
More than 80 years under the leadership of Vietnam Communist Party, the pioneer of the workers, as well as the working people and the whole country, the public power has proved its strong importance.
Vietnam has an old saying that people would row the boat and it's also be the people who would overturn the boat.
Late President Ho Chi Minh once also said that: Without people, nothing can be done, and with people, any difficult things can be solved.
The role of people is decisive to any revolution. It is the key to open many doors and the bridge over any challenges.
The country's Party always pays attention to building a whole united country.
Vietnam is a multi-ethnics country, thus it would be a tough and complicated job to keep the characteristics of each ethnic group and still maintain the cultural traits of the whole country.
Yet the Party has cleverly relied on people's power to lead Vietnam over numerous difficulties and challenges, and to achieve different victories.
During the new revolution of industrialization and modernization, national unity is even more important.
The Party and the central government have clearly issued policies for the development.
But the matter is to stir up people's patriotism and create a general agreement to implement the policies.
During his recent inauguration ceremony, the re-elected President Nguyen Tan Dung said that he will focus on practical policies to better people's life to earn their support for the government.
Let's hope the promises will become actions.