Ministry of Information and Communication in collaboration with the People's Committee of Gia Lai province opened a map and documentary exhibition under title of "Paracel and Spratly Islands of Vietnam - Historical and legal evidence" on March 17.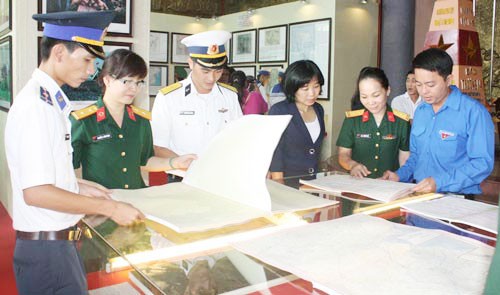 (Photo:SGGP)
The exhibition played an important role for heightening public awareness, solidarity, and duty in protecting and affirming Vietnam's sovereignty over Paracel and Spratly Islands.
On display are texts, exhibits, publications and nearly 100 maps which were collected from Vietnamese and foreign documentary sources, and publicized by domestic and international researchers and scholars over the various periods such as documents of versions of Han- Nom texts, texts in Vietnamese and French were issued by the Vietnamese court during feudal times and French authority in Indochina from 17th- 20th century.
Besides, the exhibition affirmed strongly Paracel and Spratly Islands belonging to Vietnam's sovereignty through showcasing four atlases and 30 ancient maps which were officially published by China over the various periods, and some documentaries and publications were edited by the Western states from 18th- 19th century.
The exhibition is scheduled to last until March 21.