A seminar themed "Vietnam towards a new decade and the future" was held in Hanoi on August 18 to collect ideas and opinions around the formulation of the country's development strategy for the 2011-2020 period.
Prime Minister Nguyen Tan Dung opened the seminar, saying that the draft strategy identifies three breakthroughs – completion of the socialist-oriented market economic institution, development of human resources and development of a synchronous infrastructure system with a focus on major urban infrastructure and transport networks.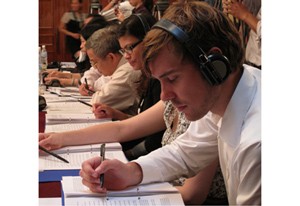 Delegates at the workshop in Hanoi August 18, 2010 (Photo: Tuoi Tre)
It also sets 12 groups of major tasks in order to fulfill the goals set by the development strategy for the next decade, he added.
The strategy aims to improve the efficiency of state management, push through administrative reform, strengthen the Party's leadership and promote the people's right to democracy in building up the state apparatus, the PM said.
PM Dung said he hoped that participants, including scientists and managers, as well as local and international experts, would give opinions and suggestions to help complete the draft strategy.
The event was organized by the Vietnam Academy of Social Sciences in coordination with the World Bank.