Forty-one individuals and groups received the Vietnam Fund Award 2010 for Scientific and Technological Creation (VIFOTEC) for their outstanding contribution to the country's scientific and technological development in Hanoi on April 15.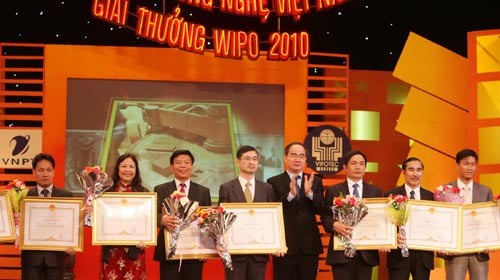 Deputy Prime Minister Nguyen Thien Nhan(4th from R) presenting the credits to winners.(Photo:Tuoi Tre)
The 41 projects covered the fields of mechanical automation, material technology, information technology, electronics, telecom, biotechnology, environmental-friendly technology, proficient use of natural resources, energy saving and use of new energy.

The fund gave away three first prizes, nine second prizes, sixteen third prizes and thirteen consolation prizes.

On the same day, the World Intellectual Property Organization Award 2010 (WIPO) was given to the best enterprise for applying intellectual property system to its production and to the best project, the best female scientist and the best young scientist in the intellectual property field.

WIPO awarded the best female author prize to Doctor Vu Thi Thuan of Traphaco Joint Stock Company.

The Ha Long Viglacera Joint Stock Company, manufacturers of clay bricks and floor tiles, became the only enterprise to win the WIPO award. The company brand is well known in Vietnam and many countries worldwide such as Canada, Russia, Italy, the Republic of Korea and the US.

In related news, the Ministry of Information and Communication announced that 36 awards would be presented to six main sectors of information and technology (IT) such as telecommunication, IT industry, IT human resource training, IT application and digital information security.  Foreign businesses, for their active contribution to the development of Vietnam's ICT and domestic businesses that are working for community development will also receive an award.

The awards ceremony will be held in Hanoi on April 23.