The Vietnam Fund for Supporting Scientific and Technological Creations (VIFOTEC) Awards 2011 were given to 38 individuals and groups for their outstanding contribution to the country's scientific and technological development, in Hanoi on May 15.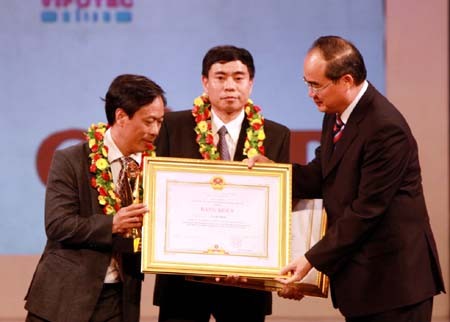 Nguyen Thien Nhan, Deputy Prime Minister (Ext R) presents the VIFOTEC Awards to the winners (Photo:VNA)
The awards were given for outstanding contributions in the fields of mechanical engineering; information technology; electronics; telecom; biotechnology; environment-friendly technology; sustainable use of natural resources; and efficient use of energy.
VIFOTEC awarded four first prizes, nine second prizes, 13 third prizes and 20 consolation prizes.
After the awards ceremony, the World Intellectual Property Organisation (WIPO) Awards 2010 was given to the best enterprise for applying intellectual property rights; the best project; the best female scientist; and the best young scientist in the same field.
WIPO awarded Dr. Nguyen Thi Loc, head of Insect Ecology and Biological Prevention at the Mekong Delta Rice Institute as the best female scientist.
The best project award went to author Vo Tan Dung of Phan Thanh Trading Services Construction Company.
The Fitohoocmon-BiFi Joint Stock Company, one of the biggest fertilizer suppliers in Vietnam, received the WIPO award for best enterprise.