A commune in Quy Hop District, Nghe An Province has attracted public attention after its inhabitants fall into the state of mental illness…Chau Cuong Commune (Quy Hop District, Nghe An Province) is a mountainous land with 4,825 inhabitants of which the Thai ethnic minority comprise up to 94%; half of them are living below the poverty line.

Eleven villages of the commune are located alongside the Nam Huong river. The ethnic minority's
Polluted water of Nam Huong River
life depends mainly on forests and terraced fields; the income per head is only less than VND80,000 a month.

In recent years, the full exploitation of tin in Quy Hop Province has seriously polluted the water of Nam Huong River. Tin mines have dumped chemical wastes into the river; consequently, fish died and more than 100 cows, buffaloes and horses drinking in the river also died. The rice productivity has been reduced for being irrigated with polluted water.

More seriously, people's lives are in danger. Some inhabitants have showed the symptoms of mental illness. The Nat Village (ban Nat) has nine mentally disordered people (at the age of 31 to 44). They did not want to eat, could not sleep and went hiding when seeing strangers. Their limbs are paralyzed with contracted muscles and aching joints.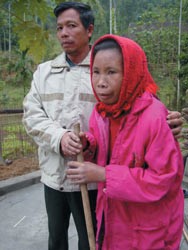 Vi Van Tam and his wife
A man called Vi Van Tam and his wife have gone crazy after drinking water from the polluted river. Their five little children are usually starved and they do not know what to do with their parents.
Mr. Lo Van Cam, head of the Chau Cuong Commune, said: "There are not only people with mental illness. In other villages, the number of people suffering from ulceration, dermatitis and other diseases has increased dramatically, which has not yet been reckoned up."

The Medical Prevent Center of Nghe An Province has warned that the water of Nam Huong River is below standard; the water is contaminated by heavy metals and other chemical substances.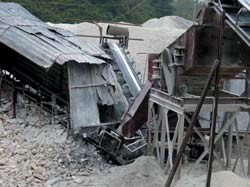 Over-exploitation of tin
However, despite urgent calls of Chau Cuong inhabitants, the Nghe An Provincial authorities have not taken steps to deal with this problem. Is the presence of a village of cancer people not enough for Phu Tho Province that there needs to have another one with mental patients?
This question goes to whom care about the life of miserable people in Chau Cuong commune.