Vinacafe Bien Hoa Joint-Stock Company has been chosen as the main provider of coffee for the Asia Pacific Economic Cooperation (APEC) summit 2006.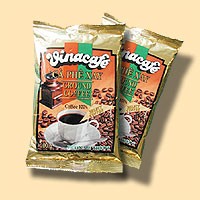 Vinacafe's roast ground coffee
Deputy Director Pham Quang Vu boasts that Vinacafe products are international award winners and earned a World Intellectual Property Organization (WIPO) trophy from the United Nations last year.
Furthermore, Vinacafe is the leading instant coffee manufacturer in Viet Nam.
The company will send its own people to Ha Noi to make coffee for the APEC delegations.
With them will go eight tons of coffee including 10,000 packets of three-in-one Gold Coffee, 9,500 of four-in-one Instant Ginseng Coffee Mix and 2,500 packets of roasted ground coffee, mostly for drinking in Ha Noi but some for the APEC leaders to take back home.
Mr. Vu said that his company would introduce the guests to the best quality coffee, one that was typical of Viet Nam's culinary culture and one of the country's main exports.
He said the specially designed package with modern and traditional features demonstrated the will for cooperation between Viet Nam and the world and Vietnamese enterprises' readiness for the integration process.