After the Prime Minister halted construction of Ke Ga Port, Deputy PM Hoang Trung Hai assigned the Ministry of Industry and Trade to coordinate with Coal and Mineral Industry Group (Vinacomin) to find an alternative plan for mining bauxite.
The aim is to find an immediate and long term plan by the second quarter of the year and present it to the Prime Minister.
Vinacomin's US$460 million facility in the Central Highland Province of Lam Dong has sold its very first batch of alumina at US$340 a ton.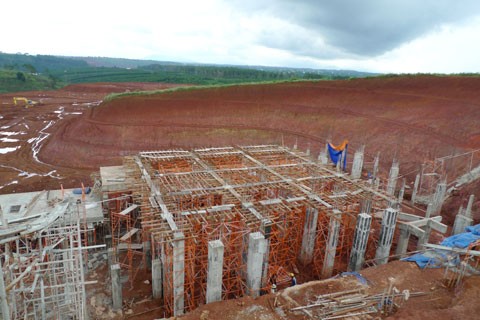 The scene of Lam Dong bauxite project
However, since the beginning, experts doubted the economic viability of the project, claiming a paradox in which more products mean more losses.

Experts argued that the US$340 a ton price would cause losses, as actual capacity was far too low.
"The more the production, the bigger the loss," they said, adding their doubt on the time it would take for the plant to recover investments.
Some others said that the plant had already posed many issues during its initial operational stage.
"The biggest issue is the problem of transporting the alumina," they said.
The mineral is currently transported by road, which will be a logistics burden for Vinacomin as the amount to be transported is as much as millions of tons a year.
At first, Vinacomin planned to transport alumina to the seacoast and build Ke Ga Port for vessels of more than 10,000 ton capacity to dock.
However, the Ke Ga Port project has been eliminated as being too uneconomical.
According to Vinacomin, halting construction of Ke Ga Port did not affect the two bauxite-alumina projects because in the early stages, products can be shipped through either Go Dau Port or Phu My Port.
Vinacomin affirms that at present the products are only in demand locally as there are yet no ports developed for export.
Vinacomin also affirms in its report that in the future the price will increase and the plant will make a profit.
Though the plant incurred losses in its first years of operation, in the long run the production price is calculated on the condition that the world economy will recover and the plant will operate at full capacity of 650,000 tons a year.
"But it's necessary that the plant remains operational as there will be huge demand for alumina in the future, and Vietnam will earn money from export of the mineral in coming years", the report writes.
It is not fair to assess the economic efficiency of any project only on the basis of pure economic value without taking into account the socio-economic benefits.
The bauxite project will create jobs for about 1,500 local workers, contribute to the central and local budgets, facilitate industrial development, and improve infrastructure and the social and cultural life of the local people, the report stressed.