The anti-corruption crime branch under the Ministry of Public Security on Tuesday claimed that senior executives of Vietnam National Shipping Lines (Vinalines), the country's largest state-owned shipping and port operator, intentionally broke the law by setting up fake contracts and accounts to embezzle billions of dong.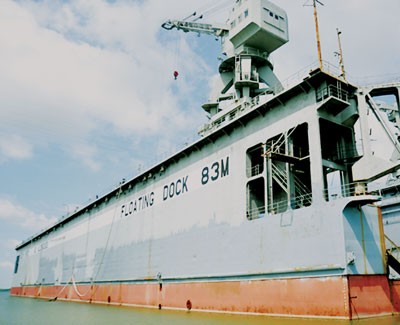 The purchase and repair of the second-hand Floating Dock 83M resulted in losses that went into hundreds of billions of dong
Representatives of the crime branch were speaking at a press conference to announce results of an initial investigation of the company's wrongdoings, such as purchase and repair of Floating Dock 83M, which was part of a project to build a Shipyard in the southern region.
Accordingly, Tran Hai Son, director-general of Vinalines and Tran Van Quang, head of the planning department, along with other officials of Vinalines Shipyard Company, connived with Tran Ba Hung from Huyndai Vinashin and Pham Ba Giap, director of the Nguyen An Company in Nha Trang City, to set up two fake contracts and account books on repairs to the Floating Dock, to appropriate money off Vinalines.
From the appropriated amount, officials from Vinalines Shipyard got VND2.54 trillion and Tran Hai Son alone received VND900 million.
Colonel Tran Duy Thanh, head of the crime branch, said that on February 1, 2012, they had decided to prosecute and arrest Tran Hai Son, Tran Van Quang, Tran Ba Hung and Pham Ba Giap.
The arrested all admitted to their wrongdoings and agreed to pay back around VND1.2 billion, assessed to be VND1.7 billion less than the actual amount they should return.
In a separate development, on August 31, 2006, the Government Office announced that Deputy Prime Minister Nguyen Sinh Hung had agreed with Vinalines to build a Shipyard in the southern region.
Mr. Hung then tasked the Ministry of Transport to incorporate the project into the country's plan for development of the shipping industry, and submit it to the Prime Minister for approval.
However, before the Prime Minister could approve, Duong Chi Dung, chairman of Vinalines at that time, passed the construction project for a Shipyard in the southern province of Ba Ria-Vung Tau.
Dung officially approved the project at an estimated investment of VND6.5 trillion on October 3, 2008.
Earlier, he had approved the purchase of Floating Dock 83M, based on a proposal made in October 2007 by Tran Huu Chieu, deputy director general of Vinalines and head of the shipyard management committee. The total approved cost of buying the Floating Dock from Russia was US$14.14 million.
On February 14, 2008 Mr. Chieu proposed an increase in the amount to $24.3 million, for purchase, transport and repair of the Floating Dock, which proposal was again passed by Dung.
According to the crime department, the Floating Dock was imported before Ba Ria-Vung Tau Province handed over the construction site for the Shipyard project.
As a result, there was no place to install the Floating Dock when it arrived in Vietnam, leading to damages of VND100 billion. Worse, the Dock was second-hand, downgraded and badly in need of repairs as it had been built in 1965.
Duong Chi Dung has been absent from his office and home, thus the police have issued a wanted notice nationwide and will ask for assistance from Interpol if he flees the country, said Colonel Thanh.