Vietnam's Vinalines Queen cargo ship that disappeared off the Philippines on Dec. 25 has sunk and only one sailor has been rescued while the 22 others are still missing, the Vietnam Maritime Rescue Coordination Center announced Friday afternoon.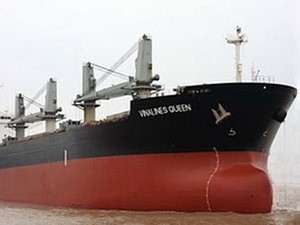 An undated file photo of the Vinalines Queen Ship
The sailor saved is Dau Ngoc Hung, said the Vietnam Maritime Rescue Coordination Center.
Britain's London Courage ship en route to Singapore found him on a life raft at sea at 10:30 AM Friday, about 350 kilometers from to the ship's last known site.
The Vietnam center said it managed to make satellite phone calls to the survivor and a call got through at 3:20 PM. He said the Vietnamese ship sank at 7 AM on Dec. 25 because of an incline to the left.
He said the ship sank immediately and all sailors could do was to release only one life raft, and he was the only one to escape. Hung said he was drifted until the British ship saved his life.
Hung is 31 years old, a resident of the central province of Nghe An. He was on the life raft for six days.
The Vietnam Maritime Rescue Coordination Center says it has appealed maritime rescue agencies of the Philippines, Japan and Taiwan for help to search for missing sailors from the Vinalines Queen
According to the Vietnamese shipping corporation Vinalines, the ship was carrying more than 54,000 tons of nickel ore and was traveling from Indonesia's Morowali Port to Ningde Port in China when it lost contact.