The Vinasat-2 telecommunication satellite was successfully launched at 5.13am on May 16 at the European Spaceport in Kourou in French Guiana in South America and by 5.48 am it entered orbit.
The launch was conducted by European Arianespace Arian 5 missile, as per schedule at the start of a two hour launch window.
After 35 minutes in flight, Vinasat-2 and the Japanese JCSAT-13 telecommunication satellites left Arian 5 launch vehicle and entered orbit.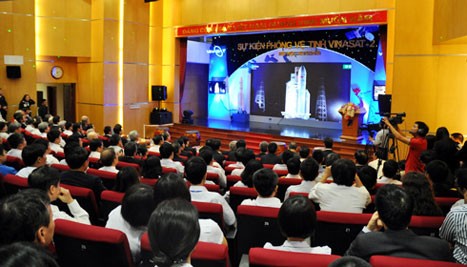 Watching the launch at VNPT' headquarters in Hanoi.(Photo: VNExpress)
The mission of Vinasat-2 is to boost local expertise and further develop Vietnam's satellite communications technology as well as communication for fishermen at sea, deliver weather forecasts and ensure defence security.
The new satellite, costing nearly US$280 million and weighing 3,000 kg, was constructed by US-based Lockheed Martin. It will have a larger capacity, equal to 13,000 channels of telephone/internet/data communications or 150 Television channels; greater number of sensor responses; and higher bandwidth capacity.
VINASAT-2 will focus on 24 Ku-band transponders, which provide radio, television and telephone transmission services for all of Vietnam and other parts of the Southeast Asia Region.
The satellite's life expectancy is about 15 years and VNPT leaders said that the capital would be reimbursed after 10 years of operation.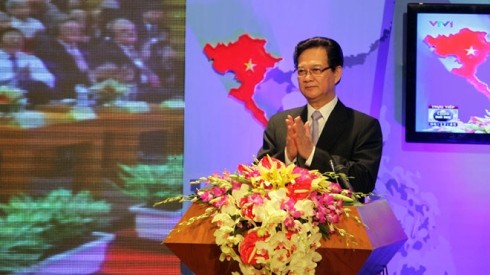 PM Nguyen Tan Dung congratulates VNPT on the successful launch.(Photo: VNExpress)
This is Vietnam's second satellite launch after the first one launched in 2008.
Prime Minister Nguyen Tan Dung;Deputy Prime Minister Nguyen Thien Nhan; Minister of Information and Communications Nguyen Bac Son; Deputy Minister of Defence and senior lieutenant general Truong Quang Khanh witnessed the launch of the satellite at the Vietnam Posts and Telecommunications headquarters via live broadcast from Kouru. They warmly greeted and congratulated the VNPT leadership on the successful launch of VINASAT-2.