Viet Nam plans to invest in its transport infrastructure comprehensively while linking development strategies among sectors in order to develop a multi-modal transport environment, making the country the gateway connecting Southeast Asia to the Indian Ocean.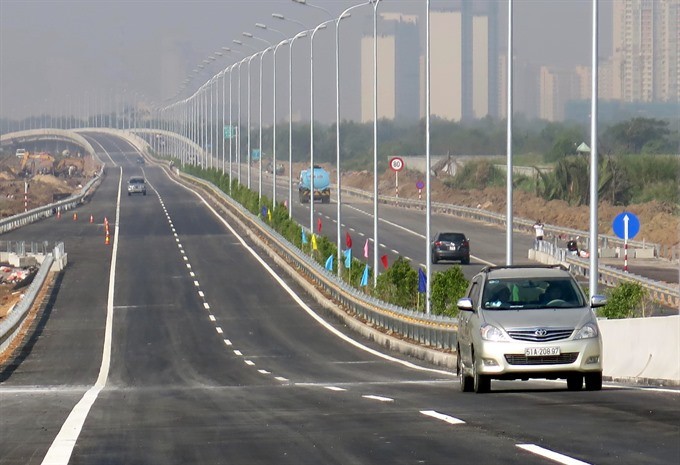 The stretch from An Phú Intersection in District 2 to Ring Road 2 in District 9 in HCM City, part of the Hồ Chí Minh Expressway. — VNA/VNS Photo Hoàng Hải
This was the target of a master plan on developing infrastructure and linking national infrastructure with other regional networks from now until 2020. The master plan was approved by Prime Minister Nguyen Xuan Phuc on Tuesday.
According to the plan, Viet Nam will give priority to construction work which ensures the connection between national modes of transport, major economic centres, key transport hubs and traffic infrastructure networks in the region.
Specifically, the country will focus on building expressways, including the Ho Chí Minh Expressway, and upgrading and connecting national highways of the northern and southwest belt roads and sea routes linking Vietnamese ports with neighboring countries such as Lao, Thailand and Cambodia. Around 2,000 kilometres of highways will be completed and put into use by 2020.
The country aims to complete construction projects to connect the route from northern Cao Bằng Province's Pac Bo District to southernmost Ca Mau Province's Dat Mui District with a two-lane road.
In terms of its sea route network, Viet Nam will focus on construction work that connects seaports with national transportation networks and logistics hubs in the region. Dry ports and other infrastructure that supports the development of logistics services will also be given priority.
Development of waterway systems is also important. Việt Nam has set a goal to complete the national technical regulations on domestic waterways. Water routes connecting the Mekong Delta region with HCM City and other routes of Tiền, Hậu, Hồng and Thái Bình rivers will be upgraded.
The country will continue upgrading and modernising three international airports, including HCM City's Tân Sơn Nhất Airport, Hà Nội's Nội Bài Airport, and Đà Nẵng Airport. Other facilities will also be built at other airports to help achieve total designed capacity of airports of between 110-120 millions of passengers and 1.5-2.5 millions of cargo by 2020.
E-Government developed
Over the coming years, the Government plans to enhance the development of e-Government to improve the quality and effective operation of State agencies.
It will accelerate the application of information technology in management and operation of the socio-economic infrastructure system. Databases on population, land fund, finance, and insurance will create a foundation for e-government development.
The nation will build favourable policies for information technology and communication infrastructure, in line with trends in the region and the world. Enterprises in software development will receive support to create competitive products.
Concentrated information technology zones will be built in Hà Nội, Đà Nẵng and HCM City.
In the near future, the Government will complete mechanisms for concentrated information technology zones and build network links between these zones and universities, research institutes, businesses and governmental agencies.