Vietnam wants Thailand and Cambodia to apply maximum restraint, to avoid armed clashes and continue resolving disputes through peaceful talks, Vietnamese Foreign Ministry spokesperson Nguyen Phuong Nga said on April 22.
Spokeswoman Nguyen Phuong Nga made the statement while answering reporters' question on Vietnam's reaction to conflicts occurring on April 22 between Thailand and Cambodia in the disputed areas of Ta Mon Thom and Ta Krabey temples on the two countries' border.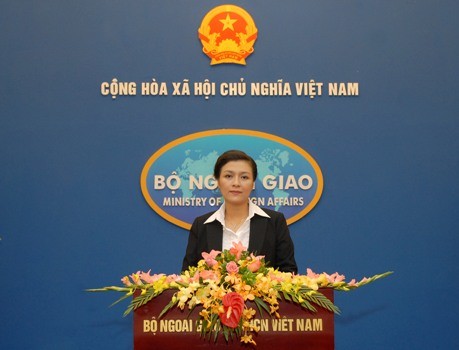 Spokeswoman Nguyen Phuong Nga
She said: "As ASEAN members and as a neighbour of both Thailand and Cambodia, Vietnam once again wants the two sides to exercise utmost restraint, avoid armed conflicts and continue resolving disputes through peaceful negotiations on the basis of basic principles of international law, the United Nations Charter and on the spirit of friendship, ASEAN solidarity and for the two peoples' interest and for peace, stability and cooperation in the region and the world.
"We call on Cambodia and Thailand to strictly abide by pledges made at the informal ASEAN Foreign Ministers' meeting in Jakarta on Feb. 22, 2011 and not let the situation become out of control and more complicated," she said
On the same day, ASEAN calls on Cambodia, Thailand to end arms. Indonesian Foreign Minister Marty Natalegawa called on Cambodia and Thailand to end military actions after clashes broke out on April 22 along the two countries' border, according to AFP.
Natalegawa said that as chair of ASEAN, Indonesia asks Cambodia and Thailand to immediately end hostile actions and solve conflict by peaceful means, adding that the use of force is unacceptable within the framework of relationship of ASEAN member countries.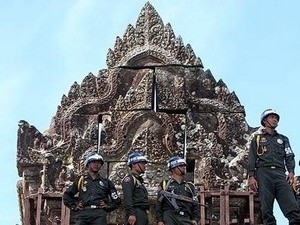 Cambodian soldiers at Preah Vihear temple
Earlier, at a meeting of ASEAN in Indonesia, the host country proposed to send observers to the disputed area near Preah Vihear temple. Cambodia welcomed this move but the Thai side was yet to accept.
Concerning the clashes on the morning of April 22, Cambodian Foreign Minister Hor Namhong sent a letter to the United Nations Security Council chairman, claiming that Thailand had started a large-scale attack with many types of weapons against Cambodia