Viet Nam will exert more efforts to ensure all children are cared for, and the country is willing to work closely with countries and international organisations to tackle this issue, officials said yesterday during a seminar in Geneva, Switzerland.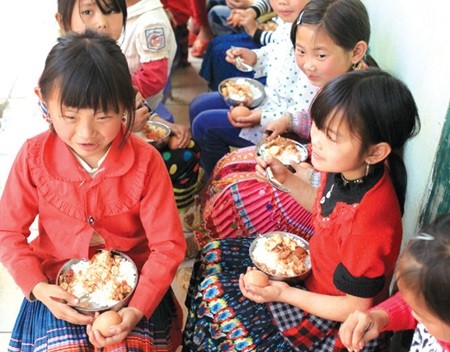 Ethnic children have lunch in northern Lao Cai Province's Man Than Primary School. — VNS Photo Thai Ha
Ambassador Nguyen Trung Thanh, head of Viet Nam's Permanent Mission to the United Nations, the World Trade Organisation and other international organisations, expressed the country's goals during the seminar Investing in children and their families to avoid unnecessary separation on the sidelines of the United Nations Human Rights Council's ongoing 30th session.
During the seminar, which was co-organised by Viet Nam, Kenya, Portugal and Uruguay, Thanh spoke of the attention paid by countries and organisations to the unnecessary separation of children from their parents due to different socio-economic reasons. He shared Viet Nam's efforts to protect and care for abandoned and homeless children.
The country's 2004 Law on Child Protection, Care and Education devoted a chapter to regulate protection and care measures for children, including orphans and abandoned children, he said.
The Vietnamese Government also approved five-year plans to intensify care for disadvantaged children and those living with HIV, he stated.
According to Thanh, about 350,000 underprivileged children are receiving monthly allowances, free school textbooks and tuition, vocational training, health insurance and free medical treatment.
At the seminar, delegates shared their experiences to intensify social welfare for children and their families, while outlining goals to reduce the number of children abandoned by family separations or poverty.