Vietnamese Prime Minister Nguyen Tan Dung and his Czech counterpart Mirek Topolanek said during their talks in Ha Noi on March 21 that they are satisfied with the development of the two countries' recent relations.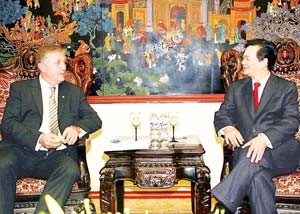 Vietnamese Prime Minister Nguyen Tan Dung (R) meets with his Czech counterpart Mirek Topolanek in Ha Noi Friday. (Photo: TTXVN)
The two government leaders also agreed that while bilateral economic ties and trade between the countries have grown rapidly, particularly in two-way trade, their economic relations are still unmatched by their fine political relations and their shared potential and goals.
The two Prime Ministers stressed that ministries, economic sectors, businesses and investors of both countries should increase contact and information exchange in order to promote cooperation that taps the strengths of the two sides and raises bilateral trade.
The two leaders said their governments have always encouraged and created favorable conditions for businesses of the two countries to set up relations, exchange information and promote trade in order to raise the efficiency of trade and investment ties.
The two sides agreed to open direct air routes linking the two countries to promote cooperation in tourism and labor.
Following the talks, Mr. Dung and Mr. Topolanek witnessed the signing of a joint protocol on amendments to the Viet Nam - Czech Republic Treaty on Mutual Investment Encouragement and Protection, and an agreement on cooperation in education and training for 2008-2011.
In the witness of representatives of the two governments, Czech and Vietnamese businesses signed 11 agreements on investment and cooperation worth more than US$2.6 billion.
The Czech PM is on a four-day official visit to Viet Nam from March 20.