A Foreign Ministry spokesperson condemned China's plan for tourist development on the Hoang Sa (Paracel) archipelago as a violation to Vietnam's sovereignty.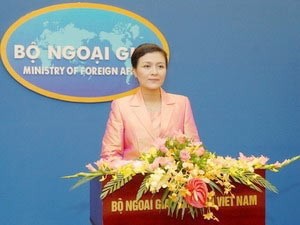 Foreign Ministry's spokesperson Nguyen Phuong Nga (Photo: VNA)
Nguyen Phuong Nga on January 4 demanded China immediately end its project to include the Hoang Sa archipelago in the scheme to develop the Hainan island into an international tourist site.
The scheme was announced by the Chinese State Council on December 31, 2009.
She reiterated undisputable sovereignty over the Hoang Sa and Truong Sa (Spratly) archipelagos, emphasising "the above-mentioned scheme by the Chinese side has seriously violated Vietnam 's sovereignty".
"It runs counter to the common high-level viewpoint, causes tension and further complicates the East Sea situation," said Ms. Nga.
"Vietnam demands China put an immediate end to this action."