Sharing experiences is significant and essential for judicial system development of all countries and territories in the region, especially for Vietnam's judicial reform, said President Nguyen Minh Triet at the opening ceremony of the 13th conference of judicial heads from the Asian – Pacific region November 9 in Ho Chi Minh City.
Vietnam is currently undergoing far reaching judicial reform to build a jurisdiction that is stronger and more transparent in order to protect citizen's interests and reduce corruption, Mr. Triet said.
Vietnam hopes to learn from other countries' experiences and apply them to the specific context of the country.
During the conference, from November 9-12, many subjects will be discussed, such as: the development of the judicial system; strengthening effective activities of the courts of first and second instance, the role of chief judge and the independence of courts while promoting judicial morals and public awareness; and Vietnam's experience of developing a "judges handbook"- an important document to improve the consistency of a judge's performance.
The conference attracted more than 70 chief judges, judges and legal specialists from 29 countries and territories in the region.
On the same day, the 22nd conference of the Law Association for Asia and the Pacific (LAWASIA) was also held by the city's Bar Association, with the participation of 330 lawyers from countries and territories in the region and more than 100 Vietnamese lawyers.
The participants will discuss a wide range of issues, such as laws on the protection of personal information, family law, immigration law and judicial procedures.
In related news, on November 9, President Triet visited and offered a second rank labor medal to the Service Company to Foreign Missions (Fosco).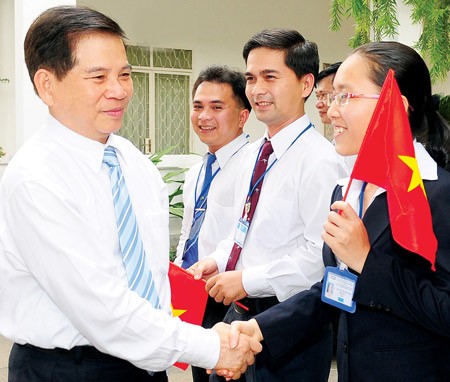 President Nguyen Minh Triet (L) visits and requires Fosco's staffs on November 9. (Photo: SGGP)
Fosco currently provides a service to 100 foreign consular agencies, international organizations and 1,250 representative offices with 10,000 Vietnamese employees in Ho Chi Minh City and 17 provinces and cities in the south.
President Triet hopes Fosco can improve upon its current remits, including house rentals, business tours, education for foreigner's children at Fosco's international school and other services.
Fosco should improve the quality of services, as well as professional skills and foreign language for staff, to maintain its competitiveness and better serve customers, Mr. Triet added.