Vietnamese Prime Minister Nguyen Xuan Phuc yesterday received Minister of Science, Technology and Environment of Cuba Elba Rosa Perez Montoya at Government office on her visit and work at Vietnam.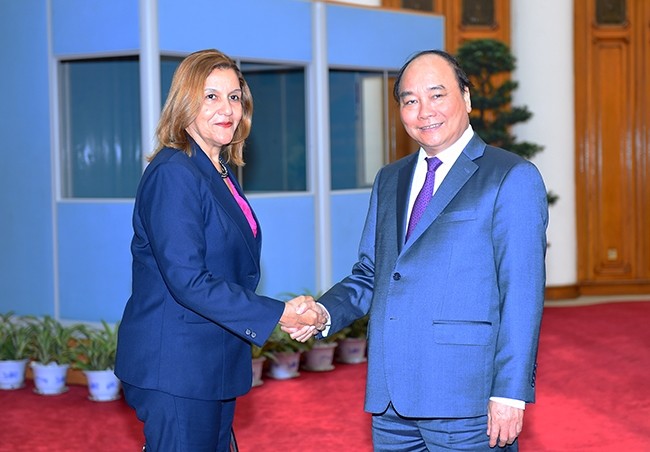 Prime Minister Nguyen Xuan Phuc (R) and Cuban Minister of Science, Technology and Environment Elba Rosa Perez Montoya- Photo: VNS.
At meeting, PM Nguyen Xuan Phuc highly appreciated two countries' bilateral cooperation in science and technology via cooperative projects on research and development in biotechnological- agricultural transfer and anti- climate change adding that Vietnamese leaders and people continue to foster comprehensive cooperative relationship with Cuba in next time.
Vietnamese and Cuban high- ranking leaders from ministries, departments, agencies and locals should continue to create more favorable conditions for foreign businesses in trade and investment cooperation, proposed PM Phuc.
Both sides need to effectively maintain and promote bilateral cooperative activities and policies, especially Intergovernmental Council speeds up bilateral negotiations to enter two- way agreement of trade, investment and science & technology cooperation.
Besides, Vietnam and Cuba should effectively collaborate in research and cooperation through the projects of biotechnological, medicine and agricultural.
Mrs. Elba Rosa Perez Montoya also highly appreciated Vietnamese current state management practices in the fields of science & technology and environment.
On the same day, PM Nguyen Xuan Phuc received Minister for Science and the Arts of Germany's Hessen State Boris Rhein. At the meeting, he praised interests from leaders of Hessen State in strengthening strategic partnerships with Vietnam. Vietnam also treasured cooperative relationship with Hessen State. He also appreciated educational training results of Vietnam- Germany University.
On the same day, PM Phuc had a meeting with Australian Ambassador to Vietnam Hugh Borrowman who came to say bid farewell after ending his working term in Vietnam.