The development of long-term, multifaceted cooperation with Kazakhstan is one of Vietnam's foreign policy priorities, said visiting Prime Minister Nguyen Tan Dung, adding that he expects higher-level relations with the republic.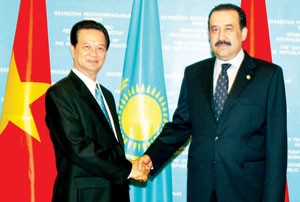 Kazakhstan's Prime Minister Karim Masimov (R) receives visiting Vietnamese PM Nguyen Tan Dung in Astana Sep. 15 (Photo: VNA)
Meeting with Kazakh President Nursultan A. Nazarbayev in Astana on Sept. 15, PM Dung expressed his admiration for the country's rapid economic growth over the past years. He congratulated his host on Kazakhstan's rising position in international and regional forums.
He said the Vietnamese people remember and treasure the valuable assistance of the people of former Soviet Union, including the Kazakh people, to the cause of Vietnam's national construction and defence.
He stressed that Vietnam respects and pays due attention to developing friendship and multifaceted cooperation with Kazakhstan on the basis of mutual trust and shared benefit.
Briefing the host of his talks with PM Karim Masimov, PM Dung said the two countries' economic and trade cooperation is still modest, not yet matching their potential, thus the two sides should exert more effort to bring practical benefits to their people.
PM Dung and President Nazarbayev agreed that the two countries need to boost cooperation in economy, trade, investment, science-technology, education, tourism and labor, as well as coordinate with each other and lend mutual assistance at international forums.
President Nazarbayev affirmed his support for bilateral relations, especially in fields that tap each country's fortes, such as oil and gas, agriculture, fisheries and mining.
He suggested accelerating the implementation of existing agreements, especially the seven documents signed during this Kazakhstan visit by PM Dung.
Earlier, PM Dung had a meeting with Kazakh Senate Chairman Kasym Jomart Kemelevich Tokayev, during which where he stressed that Vietnam's National Assembly has pays careful attention to cooperation with other countries' legislatures, and conveyed NA Chairman Nguyen Phu Trong's regards and as well as an invitation for the Kazakh Senate Chairman to visit Vietnam.
He expressed his hope that the Kazakh parliament will soon ratify the newly-signed agreements between the two sides, and step up negotiations on the signing of a double taxation avoidance treaty in order to facilitate investment cooperation between the two countries.
The Senate Chairman expressed his wish to boost cooperation between the two legislatures and invited NA Chairman Trong to visit Kazakhstan.
The same day, making a speech in front of 200 businesses at the Vietnam-Kazakhstan Business Forum, PM Dung said that economic-commercial relations between the two countries have made remarkable steps, achieving an increase in trade turnover of nearly 100 million USD in 2008 from 20.4 million USD in 2006.
Highlighting the potentials and opportunities for investment in economic development in Vietnam, PM Dung pledged that the Vietnamese Government would provide favorable conditions for Kazakh investors in his country.
Kazakh PM Masimov briefed the President on the results of the two PMs' talks, in which they reached consensus on directions and concrete measures to boost the two countries' multifaceted cooperation, focusing on strengthening political and diplomatic ties, and promoting investment in oil and gas, and the import-export of agricultural and aquatic products.
Later, PM Dung and his entourage left Astana, wrapping up his official visit to Kazakhstan, and heading off to Denmark at the invitation of his counterpart Lars Lokke Rasmussen.