Vietnamese President Tran Dai Quang received French and Indian Defense Ministers Jean-Yves Le Drian and Manohar Parrika at Presidential Palace in Hanoi yesterday evening as two ministers pay an official visit to Vietnam at the invitation of Defense Minister Ngo Xuan Lich.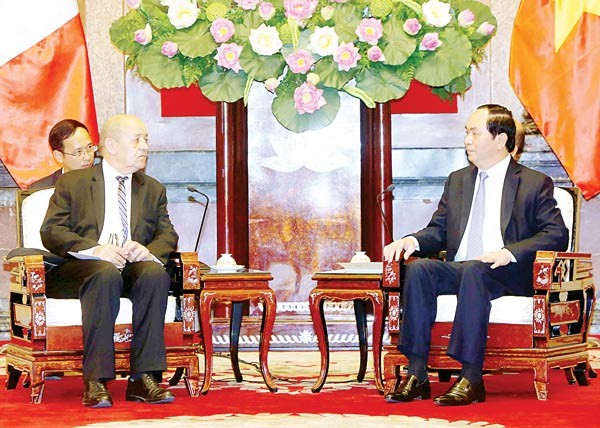 Vietnamese President Tran Dai Quang (R) receives French Defense Minister Jean-Yves Le Drian at Presidential Palace in Hanoi.
The president expressed his pleasure as two countries' ministers and defense delegations are paying a working visit to Vietnam.
At the meeting with French defense minister, President Quang stressed Vietnam has always considered France a leading partner in its foreign affairs policies.
Mr. Tran Dai Quang highly appreciated positive development in Vietnam- France strategic partnership in recent time, hoping that French government early implements signing of European Union (EU) - Vietnam Free Trade Agreement as well as creates convenient cooperative conditions in economy, trade and investment.
Besides, two countries need to foster further defense cooperative relations in order to become model of Vietnam- France strategic partnerships.
On the occasion, French minister sent a greeting of French president Mr. Francois Hollande to Vietnamese president.
The visit aims to boost bilateral cooperative relations in the fields of defense, security; strategic partnership being established since 2013; and willingness to prepare for French president's visit in September.
At meeting with Indian minister, the president highly appreciated India's achievements and active contributions in strengthening mutual understanding and partnerships between Vietnam and India, especially in the context of the 45th anniversary of establishment of Vietnam- India diplomatic relation in 2017 and the 10th anniversary of establishment of its strategic partnership.
The Party, State and people always regard India as a friend & leading partner hoping that the country will continue receiving India's assistance in building and protecting the country, humanity resource training, technology transfer and military equipment.