"Viet Nam is ready to become a successfully developing country in Asia," UNDP Resident Representative Jordan Ryan said at the meeting evaluating  the "Assistance to the Review of 20 Years of Doi Moi in Viet Nam" project.
The meeting has organized by the Vietnam Institute of Social Sciences in collaboration with the United Nations Development Program (UNDP) and the Swedish International Development Cooperation Agency (SIDA).
High-rise buildings under construction in Ho Chi Minh City (Photo: Viet Dung)
Mr. Ryan said Viet Nam has shifted to a market economy from a planned economy and is on the way to become a medium-income country. The country has taken many steps in improving people's representative agencies like the National Assembly and People's Committees. The public has been encouraged to take part in the decision making process of State agencies.
He added Viet Nam has seen strong development of business clubs and associations. The government has been aware of the organizations' significant role in the development of the country.
Ryan also said the government has sought to make the legal system transparent and to crack down on corruption.
In this roundtable meeting, Vietnamese scholars were joined by academics working in various countries. The seminar drew over 100 participants.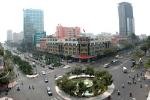 A view of a downtown area in Ho Chi Minh City
The meeting included presentations and discussions in four areas relevant to Viet Nam: the regional and international context; gender and development; rural development and urbanization and the role of the state.
Prof. Do Hoai Nam, head of the Viet Nam Institute of Social Sciences, told the seminar that Viet Nam has not only shifted to a market economy but also has integrated into the world economy. The country has enjoyed an annual growth rate of 7.5% in the past 20 years.
Achievements have been made in all areas including education, health care, culture, job creation and improvement of living conditions.
Mr. Nam said Viet Nam vows to continue improving the laws and increasing the effectiveness of the whole economy.