Viet Nam has achieved significant economic growth in the 40 years since the liberation of the south in 1975, according to reports from international institutions like the United Nations, the World Bank, and the Asian Development Bank.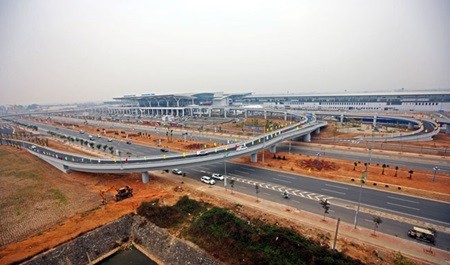 The Noi Bai International Airport's newly-built T2 Terminal serves 10 million people a year. It is a marker of the significant economic growth Viet Nam has achieved in the past 40 years since the liberation of the south in 1975 (Photo: VNA/VNS)
United Nations: Viet Nam a success story of economic growth and poverty reduction
In a report titled "Viet Nam at a Glance", the UN website says that over the last few decades Viet Nam has gone through a period of rapid socio-economic development. After reunification in 1975 Viet Nam switched its focus to reconstruction and development.
However, due to the severe damage caused by many years of war, policy weaknesses and a difficult international environment, Viet Nam's economy experienced a long period of crisis during the 1970s and 1980s.
To overcome these difficulties the doi moi (renovation) process was initiated in 1986 with the main elements being a shift from a planned centralised economy based on public ownership to a multi-sector economy based on the market, democratisation of social life by building a state on the basis of the rule of law and strengthening of co-operation with other countries.
On the back of these reforms Viet Nam has seen rapid economic growth. Since 1990 Viet Nam's GDP has nearly tripled based on average annual growth of 7.5 per cent until the global economic crisis in 2008.
Nevertheless, the percentage of the population living below the poverty line, estimated at 58 per cent in 1993, decreased to under 12 per cent by 2009. Domestic resources for development have increased and international trade and foreign direct investment have dramatically expanded over the past two decades.
Viet Nam Socio-economic Development Strategy (SEDS) for 1991-2000 and 2001-10 helped it advance from a largely poor, agricultural-based economy to a wealthier, market-based and rapidly developing one, increasingly integrated into the regional and global community.
In 2010 it was estimated that Viet Nam achieved middle-income country status, and the 2010-20 SEDS aims to establish the foundation for Viet Nam to become a modern, industrialised country by 2020.
Based on the Millennium Development Goals (MDGs) and the country's own aspirations, Viet Nam has also established its own 12 development goals (referred to as Viet Nam's Development Goals or VDGs), which include social and poverty reduction targets.
The VDGs reflect the MDGs and at the same time take into account the specific development features of Viet Nam. The VDGs are integrated into the national socio-economic development strategies and are translated into specific targets.
The Government has issued many documents to help achieve the MDGs and the VDGs. These include the Comprehensive Poverty Reduction and Growth Strategy (approved in 2002) and the Orientation for a Sustainable Development Strategy (also called Viet Nam's Agenda 21, issued in 2004). A range of socio-economic programmes has also been launched throughout the country.
Taken together, these strategies and collective efforts have taken Viet Nam from being one of the poorest in the world only a few decades ago to a rapidly growing middle-income country.
In general, Viet Nam's growth record over the past two decades has been largely driven by a combination of steady economic reforms, integration into the world economy and a stable macro-economic environment.
WB: A development success story
In its "Viet Nam Overview", the World Bank's website also says that Viet Nam is a development success story.
Political and economic reforms (doi moi) launched in 1986 transformed Viet Nam from one of the poorest countries in the world with a per capita income below US$100 to a lower middle-income country with a per capita income of over $2,000 within a quarter of a century.
Viet Nam has achieved most, and in some cases surpassed, of the Millennium Development Goals (MDGs), particularly in poverty reduction, education and gender equality.
Over the last few decades Viet Nam has made remarkable progress in reducing poverty. The percentage of people living in poverty dropped from almost 60 per cent in the 1990s to less than 3 per cent today.
Viet Nam's growth rate has averaged 6.4 per cent per year for the last decade, but it has begun to slow recently. In 2014 GDP growth was 6 per cent, projected to flatten in 2015 and start to pick up in 2016. Viet Nam has managed to improve economic stability with headline inflation falling from a peak of 23 per cent in August 2011 to about 4.1 per cent for 2014.
The external sector continues to be an important engine of growth. Export in US dollar terms is estimated to have grown by 11.6 per cent in 2014, outperforming other countries in the region.
Viet Nam's traditional labor-intensive manufacturing exports such as garments, footwear and furniture continue to grow at a rapid clip.
Recent additions to the export basket such as high-tech and high-value products (cell phones, computers, electronics, and automobile parts) have also maintained rapid growth to account for the largest share of export.
The Socio-Economic Development Strategy (SEDS) 2011-2020 pay attention to structural reforms, environmental sustainability, social equity and emerging issues of macroeconomic stability. It defines three "breakthrough areas": promoting human resources/skills development, improving market institutions, and infrastructure development.