The Vietnamese government will do its utmost to boost relations with the US, especially economic, commercial and investment ties, for the benefits of both sides, Prime Minister Nguyen Tan Dung said Tuesday.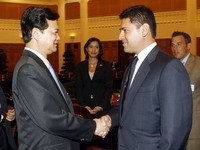 Prime Minister Nguyen Tan Dung (L) greets Assistant Secretary of Commerce Israel Hernandez in Ha Noi
The PM made the statement while receiving Israel Hernandez, US Assistant Secretary of Commerce for Trade Promotion and Director General of the US and Foreign Commercial Service, in Ha Noi.
Mr. Dung welcomed the Mr. Hernandez and the US business delegation to come to inquire into investment opportunities in Viet Nam.
He spoke of his pleasure at the fine development of Viet Nam-US relations in all areas, saying that since the two countries signed the Bilateral Trade Agreement, two-way trade has annually increased by 30 percent on average.
Trade value between the two countries last year reached more than US$11 billion, ranking third among Viet Nam's nearly 100 trade partners, and stood at US$5.5 billion in the first five months of this year.
The US currently ranks 9th among foreign investors in Viet Nam with a combined investment capital of US$4 billion in Viet Nam by 396 US businesses.
The PM said the two countries still have great potential for development of trade and investment cooperation, and the two sides should accelerate cooperation for mutual benefits.
The PM said that in this spirit, the country highly valued the visit by Assistant Secretary Israel Hernandez and the US business delegation, and affirmed that Viet Nam will create all favorable conditions for US businesses to invest in the country.
The government leader hoped that the US Department of Commerce would help promote trade between the two countries, especially the import of Vietnamese products to the US market.
He suggested the two sides hold negotiations for signing a framework agreement on investment between the two countries as soon as possible in order to create more favorable conditions for US businesses to invest in Viet Nam.
The PM also spoke about Viet Nam's socio-economic achievements and development orientations, highlighting measures to curb inflation and ensure macro-economic stability. Viet Nam still ensures macro-economic stability and social security and maintains the sustainable development with an annual growth rate of 7-8 percent, the leader stressed.
Mr. Hernandez said the rapid growth of the two countries' bilateral trade reflected US businesses' high interest in the Vietnamese market, and that the visit also manifested their hope to promote trade and investment relations with Viet Nam.
At the meeting, representatives of the US businesses expressed their interest in doing business in Viet Nam, and said they hoped that the Vietnamese government continued with measures to improve the business environment and encourage foreign investment, particularly in the areas of the US's strengths such as infrastructure construction, oil and gas, energy, high-tech, education and training, and communication.