Vietnamese Prime Minister (PM) Nguyen Xuan Phuc yesterday met Japanese Ambassador to Vietnam Kunio Umede at Governmental Headquarters in Hanoi to discuss on boosting mutual cooperation ties between the two nations.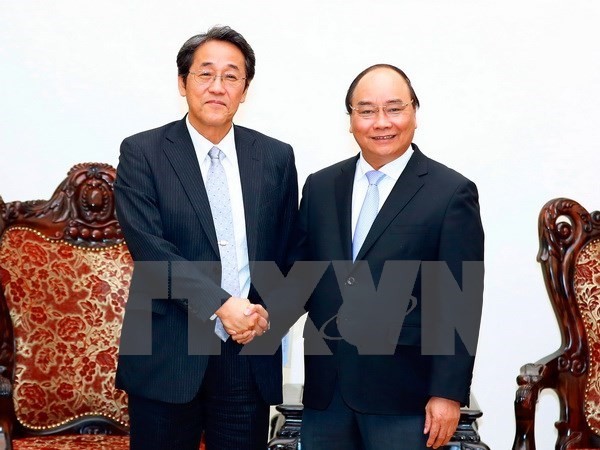 Vietnamese Prime Minister Nguyen Xuan Phuc (R) and Japanese Ambassador to Vietnam Kunio Umede (Photo:VNA)
At the reception, PM Nguyen Xuan Phuc stressed that Vietnam-Japan relations is currently in a fruitful development stage, and the country has always respected the relationship on a spirit of strategic partnership for peace and development in Asian region.
He also expressed his pleasure at the official visit of Japanese Prime Minister Shinzo Abe and his wife to Vietnam in January because this visit is expected to open new cooperation chances between the two nations.  
The Japanese ambassador also reported with PM Nguyen Xuan Phuc about on-going collaboration with Vietnam's functional agencies in preparing for large- scale projects of investment promotion into Vietnam in the upcoming time, in which 1,000 Japanese enterprises are expected to take part.
At present, the Japan External Trade Organization (JETRO) and Planning and Investment Ministry of Vietnam have actively collaborated to ensure the program fruited.