The 39th meeting of the Vietnam – Laos Intergovernmental Committee under co-chair of Vietnamese Prime Minister Nguyen Xuan Phuc and Prime Minister of Laos Thongloun Sisoulith was closed in Hanoi yesterday.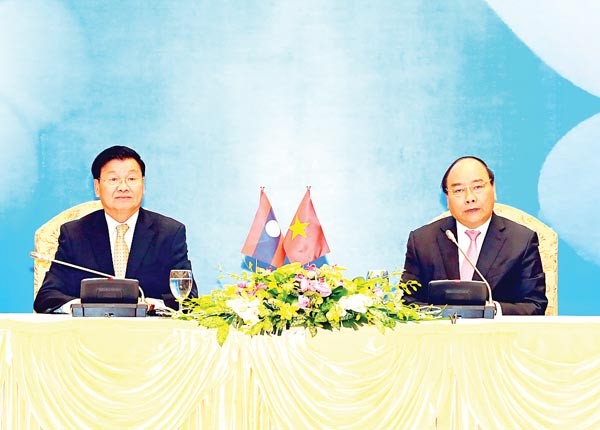 Vietnamese Prime Minister Nguyen Xuan Phuc (R) and Lao Prime Minister Thongloun Sisoulith at a press conference.
At the two day conference, the two leaders highly appreciated comprehensive cooperative results between Vietnam and Laos. Last year, the two nations effectively implemented high- level mutual cooperation as well as collaborative agreements between ministries, departments and localities in the fields of politics, diplomacy, security, defense, economy, education development, culture and society.
At present more than 14,000 students and pupils of Laos studying in Vietnam. In parallel, Vietnam invested over 400 its projects into Laos with a capital of US$ 3.7 billion.
During the summit, the both sides issued new multi- field cooperation mechanisms. Accordingly, both Vietnam and the neighboring country are unanimous in adopting direction of Poliburo; boosting cooperation relationship of politics, diplomacy, security, defense, investment and trade; expanding cooperation for humanity resources development, using sustainable water source and natural resources; celebrating the 55th establishment anniversary of Vietnam- Laos diplomatic ties and the 40th anniversary of signing their Friendship and Cooperation Treaty this year.
After the important event, the two leaders witnessed a signing ceremony of four cooperation instruments including an cooperation agreement between Vietnamese and Lao governments in 2017, a statement report of the 39th meeting of the Vietnam – Laos Intergovernmental Committee about bilateral cooperation and establishing a joint-venture company to invest into construction of Vietnam-Lao 500kV electricity transmission line, and a plan for educational collaboration between the two nations' educational ministries.
On the same day, PM Thongloun Sisoulith paid courtesy greetings to General Secretary of the Communist Party of Vietnam Nguyen Phu Trong, Vietnamese President Tran Dai Quang, and met National Assembly Chairwoman Nguyen Thi Kim Ngan.