Ha Noi, Ho Chi Minh City and many other cities around the world are facing increasing risks caused by global climate change, but practical help is at hand for city planners and administrators who are seeking to cope with, said a World Bank-UN report.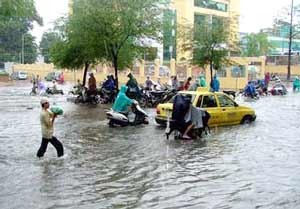 An inundated street in Ho Chi Minh City, which is often seen after a heavy rain
On Wednesday, the World Bank in Viet Nam launched "Climate Resilient Cities" – a joint World Bank and United Nations report aimed at helping cities to identify their level of vulnerability to the impacts of climate change and how to learn from the example of other cities to reduce their risks.
Discussed Wednesday at an eight-nation videoconference in Ha Noi, linking the study's authors in Washington with cities in the Asia-Pacific region, the report helps identify the specific climate change-related issues affecting cities and guides city administrators to develop plans for reducing the consequences of natural disasters while also adapting to likely future climate events.
The impact of rising sea levels from global warming could be catastrophic for Viet Nam. A five-meter sea-level rise in the country will impact on up to 16% of the land area, 35% of the population and 35% of its gross domestic product, according to the report.
The report write, "Sea-level rise of 30 centimeters to one meter over the next 100 years is expected, which is projected to cause capital value loss every year of up to US$17 billion (80 percent of the country's annual GDP) if no protective measures are taken."
"There are a number of actions that can be taken to reduce vulnerability to natural hazards and adapt to climate change," said Salvano Briceno, Director of the UN's International Strategy for Disaster Reduction – the joint authors of the report. "This Primer is a useful tool to advance the understanding in cities of the linkages between disaster risk reduction and climate change adaptation."

The report is available at www.worldbank.org/eap/climatecities.