Vietnam lacks objective policies to recruit and utilize talented individuals, and needs improved standards by which to assess and appoint leaders of localities and departments, said Minister of Home Affairs Tran Van Tuan.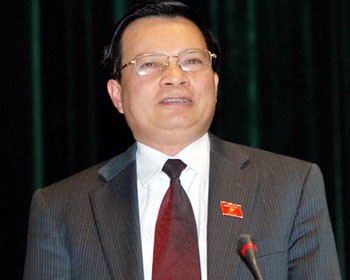 Minister of Home Affairs Tran Van Tuan (Photo: VNA)
He made the statement at a recent conference held to assess work of the Home Affairs sector in 2009 and discuss measures for 2010 in Ho Chi Minh City.
 
Mr. Tuan said that officials often bribe their way into high-ranking positions. This happens frequently when local authorities prepare to submit plans to train and nominate officials, he added.
To curb the problem, the Ministry of Home Affairs has submitted a proposal to the Prime Minister to organize exams to recruit officials.
If the project is approved, annual exams will be held to recruit officials for titles including heads and deputy heads of district departments as well as directors and deputy directors for provincial and city departments.
The exams aim to allow only those who are qualified to be considered for leadership roles.
Oral exams will be held with open-ended questions, so candidates will not be able to prepare answers in advance, Mr. Tuan said.
In response to an Sai Gon Giai Phong query about officials staying in power until retirement, Minister Tuan said that the law on civil servants, which came into effect January 1 this year, clearly stipulates that officials will be forced to leave their positions if they do not fulfill their duties adequately for two consecutive years.