A statement by the Acting Deputy Spokesperson of the US Department of State relating to the trial against Cu Huy Ha Vu on April 4 was an intervention in Vietnam's internal affairs.
The statement was made by Vietnamese Foreign Ministry Spokeswoman Nguyen Phuong Nga on April 5 while answering reporters' question on Vietnam's response to the Acting Deputy Spokesperson's statement on the trial against Cu Huy Ha Vu.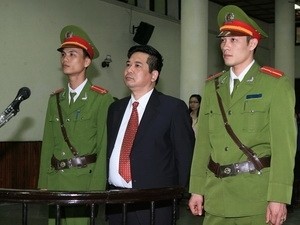 Cu Huy Ha Vu (C) stands the trial on April 4, 2011 in Hanoi (Photo: Vietnam News Agency)
"As the state of the rule of law, Vietnam handles law violations in accordance with regulations of the Vietnamese and international laws, including the International Covenant on Civil and Political Rights," she said.
In Vietnam, citizens' rights to freedom and democracy, including freedom of speech, are regulated clearly in the Constitution and other legal documents, Nga said, adding they are respected and enforced in reality.
She also said that there is not a so-called 'prisoner of consciousness' in Vietnam.